PETS: PET FOOD CO. PUTS ITS PRODUCT ON RESTAURANT 'MENUS'
Fido Gets a Seat at the Table With Startup's Dog Dining Kits
Friday, October 31, 2014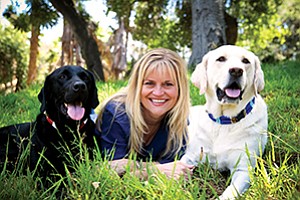 Karen and Tom Scoggins employed the same marketing tactic used by many startups when the couple launched their business, My Perfect Pet, in 2009: word of mouth. They attended scores of street fairs and expositions and talked up anyone who would listen in an effort to promote their product, a specially prepared dog food made of whole and natural ingredients.
But it was an idea hatched at the dinner table that would forward the profile of the business, plus meet a need for pet-lovers.
One night, they were eating out with their "kids" — two Labrador retrievers, Knight and Boomer-Buckaroo.
"Our dogs are our kids, and for us a family, dinner meant somewhere with a pet-friendly patio," Karen Scoggins said. "When we realized we were taking a food bar in a disposable bowl for them to enjoy while we ate, the light bulb came on — why not offer food bars to the restaurants to serve to their pet-friendly patrons? We call it reinventing the family dinner. Everyone likes to take turns choosing the restaurant; why not include the dog?"
Hence, a unique marketing tool was born, one Karen Scoggins said will be a key component in the company's nationwide push in the coming year.
Dine With Your Dog is a kit that includes a disposable bowl, a sampling of the products offered by My Perfect Pet and a menu of all items available from the company. The kit has helped to fuel the company's growth, Karen said.
Sales of the dog food have been steadily increasing, allowing My Perfect Pet to move into a new 13,000-square-foot Poway facility on Oct. 1, nearly 10 times the size of its previous operation.
The couple decided to make their own dog food and market it to others after losing their beloved Hunter, also a retriever, to contaminated pet food. "We made the decision to never feed our pets anything we weren't willing to eat ourselves, making the criteria for their food as stringent as our own," Karen Scoggins said.
The dog food does not include synthetic vitamins, gluten, sugar, corn, wheat, soy, preservatives or ground bones.
Here's how Dine With Your Dog works:
"Any restaurant with a pet-friendly patio partners with any independent retailer carrying My Perfect Pet products," Karen Scoggins said. The retailer can order the Dine With Your Dog kit with their regular delivery that includes the food, disposable bowls, and table menus, to provide to their restaurant partners.
Prev Next