Douglas Wilson Cos. Among Firms Planning $200 Million Mixed-Use Arizona Project
Friday, October 31, 2014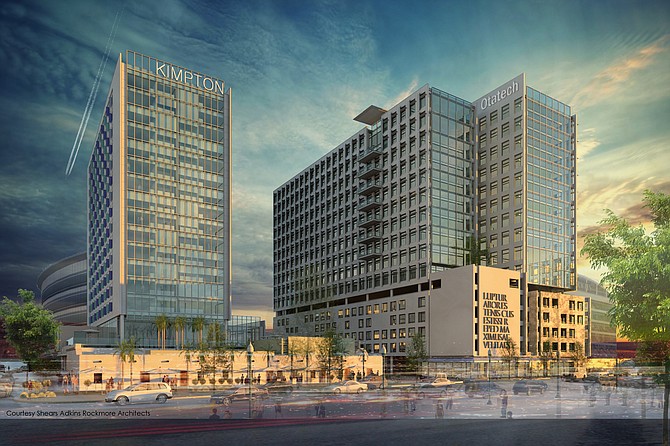 A partnership that includes San Diego-based Douglas Wilson Cos. has acquired a property in Tempe, Ariz., for approximately $16.8 million, with plans to develop a $200 million, mixed-used project that includes a hotel and office tower.
The partnership also includes Hensel Phelps Development LLC, a subsidiary of Colorado-based Hensel Phelps Construction Co., and Karlin Real Estate of Los Angeles, according to brokerage company Cassidy Turley.
Cassidy Turley's Brent Moser, Mike Sutton and Brooks Griffith negotiated the transaction on behalf of the seller, Michael Monti's Catering.
The development partnership, called Hayden House Tempe LLC, plans a 15-story, 280,000-square-foot Class A office building and a 16-story, 274-room Kimpton hotel, with 17,000 square feet of retail and restaurants.
The 2.5-acre site near downtown Tempe is currently home to the historic Hayden House, the oldest continuously occupied structure in metropolitan Phoenix and Arizona, completed in 1873. The house will be preserved and repurposed as a destination restaurant.
Wilson Cos. Chairman and CEO Douglas Wilson said in a statement that developers were drawn to the Tempe site because the eastern suburb of Phoenix is "experiencing tremendous investment and revitalization."
Douglas Wilson Cos. was founded in 1989 and provides various real estate and problem resolution services. The company is headquartered in downtown San Diego and has regional offices in Las Vegas, San Francisco and Washington, D.C.