Realty Income Reports Third-Quarter Gains in Revenue, Income
Thursday, October 30, 2014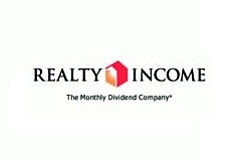 Realty Income Corp. posted a 16.6 percent gain in revenue from a year ago and a 40.8 percent rise in net income available to common stockholders for its third quarter ending Sept. 30.
Revenue for the period was $235.7 million and net income was $57.9 million, the Escondido-based company reported.
Adjusted funds from operations, an industry-recognized supplemental metric gauging the performance of real estate portfolios, rose 20.8 percent from the year-ago period, to $142.4 million.
CEO John P. Case said the real estate investment trust completed $182.1 million in property acquisitions and $33.8 million in selloffs during the quarter, and its overall portfolio occupancy ended the quarter at 98.3 percent. Same-store rents increased 1.4 percent.
Realty Income Corp. (NYSE: O) was started in 1969 and recently marked 20 years as a publicly traded company. It invests primarily in retail, industrial and related commercial properties.
As of Sept. 30, the company owned 4,284 free-standing properties in 49 states and Puerto Rico, leased to 231 commercial tenants in 47 industries.
Realty Income also recently announced that Stephen E. Sterrett has joined its board of directors. Sterrett is senior executive vice president and chief financial officer of Indianapolis-based shopping center operator Simon Property Group Inc.