ViaSat Reports FY2014 Revenue of $1.35 Billion
Tuesday, May 20, 2014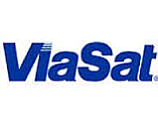 Carlsbad-based ViaSat Inc. reported a net loss of $3.5 million on $343.9 million in revenue in its fourth quarter, which ended April 4. In the year-ago quarter, it reported net income of $1.9 million on revenue of $308.7 million.
ViaSat (Nasdaq: VSAT) grew its business in fiscal 2014, reporting revenue of $1.35 billion, up slightly more than 20 percent from $1.12 billion in fiscal 2013. Net loss for fiscal 2014 was $9.4 million, an improvement from its net loss of $41.2 million in fiscal 2013.
The business reported its financial results on May 20.
As ViaSat reported its results, the Defense Department reported a new contract for the company. ViaSat received a $30.6 million U.S. Army deal covering the enhanced bandwidth efficient modem. The contract covers both production and support. The Pentagon did not specify the duration of the contract. The Army Contracting Command of Rock Island Arsenal, Ill. awarded the deal.
For more on ViaSat's recent performance and plans going forward, read the May 26 issue of the San Diego Business Journal