ROIC Posts Q-1 Growth in Revenue, Net Income
Tuesday, May 6, 2014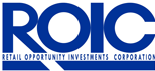 Retail Opportunity Investments Corp., also known as ROIC (Nasdaq: ROIC), reported increases in revenue and net income in its first quarter ending March 31.
Officials of the San Diego-based company said revenue totaled $36.4 million, up from $24.4 million in the year-ago quarter, and net income was $3.3 million, compared with $2.3 million a year ago.
Funds from operations, an industry recognized supplemental metric gauging performance of real estate portfolios, totaled $16.5 million, up from $11.5 million in the year-ago period.
Headquartered in University Towne Center, the real estate investment trust has made $112.1 million in shopping center acquisitions year-to-date and owned 56 centers as of March 31. President and CEO Stuart Tanz said the company continues to acquire retail centers in its core West Coast markets.
The REIT posted its ninth consecutive quarter of growth in its same-center net operating income, Tanz said. Its portfolio was 95.9 percent occupied at the end of the first quarter.