Nassco Delivers USNS John Glenn to Navy, Gets Contract Modification for Sister Ship
Wednesday, March 12, 2014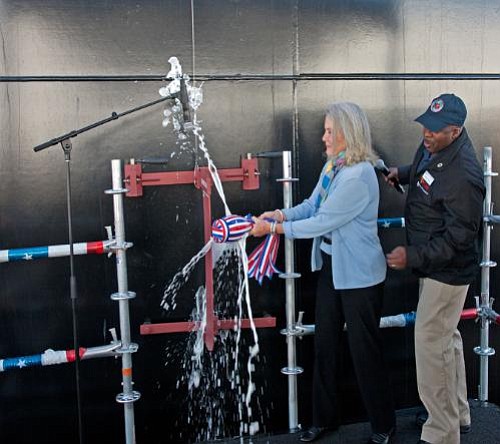 General Dynamics Nassco delivered the auxiliary ship USNS John Glenn to its U.S. Navy customer on March 12 while separately on the same day, the Pentagon announced a $128.5 million deal for work on the John Glenn's sister ship.
The 785-foot-long John Glenn is the second ship of Montford Point class. The ship, called a mobile landing platform, will serve as a floating base for amphibious operations and also be a pier at sea — that is, a transfer point between large ships and small landing craft.
Nassco began construction on the John Glenn in April 2012. The ship was recently christened in San Diego. The company said that it delivered the ship on schedule with no open discrepancies. The General Dynamics (NYSE: GD) unit said that so far, it has made more than 10,000 process improvements in the mobile landing platform shipbuilding program.
The just-awarded $128.5 million contract modification covers design and construction on the John Glenn's sister ship. Under the deal, the Nassco yard will augment the basic ship design to create something called an afloat forward staging base, which has a large aircraft landing area. The Naval Sea Systems Command of Washington, D.C., awarded the deal. Work is expected to be complete by October 2015. Nassco said it plans to undock the third ship of the Montford Point class in November and deliver it in the second quarter of 2015.