Petco Awarded $2.6 Million State Tax Credit Amid Plans to Build New HQs
Thursday, June 12, 2014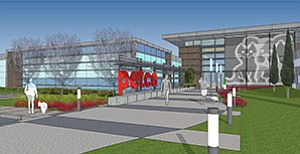 Petco Animal Supplies Inc., which is building a new 300,000-square-foot headquarters office in Rancho Bernardo, was awarded a $2.6 million tax credit from the California Governor's Office of Business and Economic Development as part of $22.5 million handed out by the agency to large companies that are growing and creating jobs.
The award was the second-largest from the agency, known as GoBiz, and based mainly on the company's expansion plans here. According to a report from GoBiz, Petco said it will add 263 full-time employees to its current California workforce that numbers 4,149.
The tax credits are the first such awards in response to a disturbing trend of both large and small businesses relocating to less-costly states such as Texas. Many other states are offering tax breaks and other incentives to California companies.
In fact, several years ago, Petco established an office in San Antonio and moved some of its local operations there, taking advantage of economic incentives provided by Texas.
Other local businesses that have recently left San Diego for Texas are Websense Inc., the Active Network and Omnitracs, all of which were acquired by Vista Equity Partners.
Three other local small businesses also were awarded tax credits. They are Iso Nano International LLC, $1.4 million; Sparsha USA Inc., $250,000; and American Marine Abatement Services LLC, $30,000.