Joint Venture Formed to Acquire, Renovate Town and Country Resort
Tuesday, June 3, 2014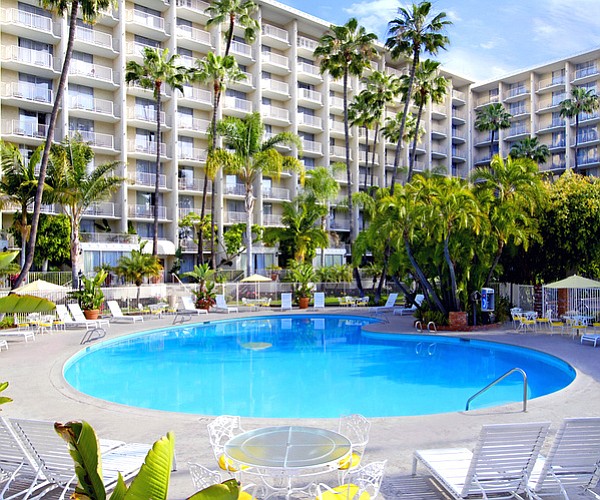 Developer Lowe Enterprises has formed a joint venture with AECOM Capital of New York to acquire Town and Country Resort & Convention Center, as part of previously disclosed plans to reposition the 60-year-old Mission Valley property.
Financial terms were not disclosed by the companies, which formed the venture with the resort's current owner and operator, San Diego-based Atlas Hotels Inc. The new ownership group plans to immediately begin a program of infrastructure upgrades throughout the property.
Lowe representatives said last year that acquisition and redevelopment of the Mission Valley property was being discussed, but the latest announcement did not disclose plans beyond hotel improvements.
Destination Hotels & Resorts, the hospitality management subsidiary of Los Angeles-based Lowe Enterprises, has assumed management of the 40-acre, 954-room resort at 500 Hotel Circle N., off Interstate 8.
"Over the next few months we will be finalizing a long-term plan for the property that will include new marketing initiatives as well as physical property improvements," said Destination President Jamie Sabatier, in a statement.
Destination's national sales and marketing force will seek to expand group and leisure business at the property, officials said.
Lowe plans to work with Atlas Hotels to "refresh and reposition the property" to capitalize on the San Diego region's growing tourism and meeting business, said Robert J. Lowe Jr., co-president of Lowe Enterprises.
Lowe and Atlas Hotels are privately owned. AECOM Capital is the investment fund of AECOM Technology Corp. (NYSE: ACM).
"With a strategic capital-improvement program, we can enhance the appeal and increase the value of this expansive property," said AECOM Capital CEO John Livingston.
Town and Country was built in 1953 by Atlas Hotels' founder, the late Charlie Brown.
"We look forward to working with our new partners, Lowe and AECOM, to create a new chapter in the long and successful history of the Town and Country Resort," said Atlas President Terry Brown, the founder's son.