Qualcomm Reports Record Revenue
Wednesday, July 23, 2014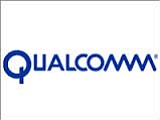 Qualcomm Inc. reported net income of $2.24 billion on revenue of $6.81 billion during its third quarter, which ended June 29.
That revenue was a record, as was the $1.44 in non-GAAP earnings per share. In its July 23 earnings announcement, Qualcomm (Nasdaq: QCOM) also said it shipped a record 225 million chips during the period.
In the year-ago quarter, the business reported net income of $1.58 billion on total revenue of $6.24 billion.
For the full year, revenues ought to be in the $26.3 billion to $27.2 billion range, showing 6 percent to 9 percent growth year over year. Earlier, Qualcomm said revenues could be as high as $27.5 billion.
Qualcomm released its earnings after the market closed on July 23. At one point during after-hours trading, Qualcomm shares were at $78.10, down 4.2 percent from their closing price