General Atomics ASI Is Seeking International Customers for Predator XP
Tuesday, July 15, 2014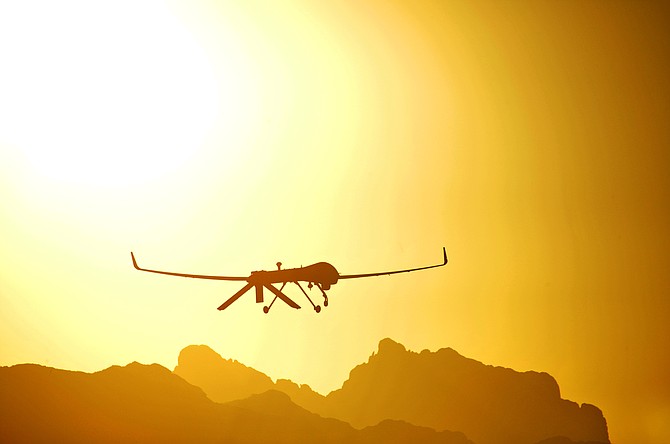 General Atomics Aeronautical Systems Inc. used England's Farnborough International Air Show to announce the first flight of its Predator aircraft built for markets in the developing world.
The unmanned Predator XP first flew for 35 minutes June 27 at Castle Dome Heliport at the U.S. Army's Yuma Proving Ground in Arizona, GA-ASI said on July 14.
The Predator XP differs from GA-ASI's other products in that it carries sensors for intelligence, surveillance and reconnaissance — but not weapons. The U.S. government has licensed Predator XP for export to a number of allies, including those in the Middle East, North Africa, South America and Asia.
The U.S. Air Force has stopped ordering Predators, now preferring to buy the Reaper, which is larger, able stay in the air longer and able to carry heavier loads.
"We are now positioned to restart the Predator production line and proceed directly to full production in anticipation of new customer orders," said Frank Pace, president of Aircraft Systems for GA-ASI, in a prepared statement.
GA-ASI also said it has set up a new testing facility at Yuma Proving Ground, which can accommodate international customers.
The company said last year that the United Arab Emirates has been interested in the Predator XP.
In other news, GA-ASI said that an aircraft carrying Reaper-style sensors successfully shared intelligence during NATO's recent Unified Vision exercise.
Also at Farnborough, the business showed off the improved Block 50 ground control station that it is building for the Air Force.
Poway-based General Atomics Aeronautical Systems is an affiliate of La Jolla-based General Atomics, which is privately held and does not disclose revenue.