City Council Approves Downtown Buffer Zone Near Solar Turbines
Wednesday, January 29, 2014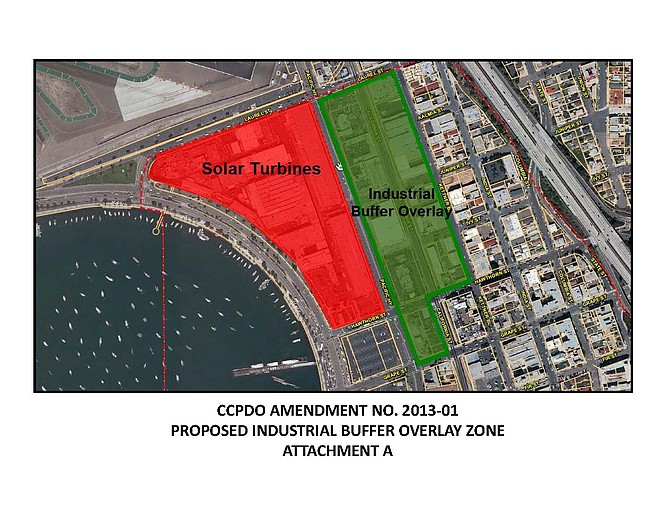 San Diego City Council has approved a downtown buffer zone prohibiting residential development in a nine-block area near the industrial facilities of Solar Turbines Inc.
The zoning change was approved earlier by Civic San Diego, the city's downtown project oversight agency, following a proposal submitted to the agency by San Diego-based Solar Turbines. It stems from a high-profile dispute that arose in 2012 when a developer proposed an apartment project near the company's facilities off Pacific Highway.
That development, on the former site of the Fat City nightclub, has since been converted to a hotel project being built by another developer and approved by the city.
The new zoning prohibits residential and other "sensitive" land uses in an area encompassing approximately 12 acres of privately owned developable land on the northwestern edge of Little Italy. The buffer zone includes eight blocks located east of Pacific Highway, south of Laurel Street, west of Kettner Boulevard, and north of Hawthorn Street.
It also takes in the block bounded by Pacific Highway, Hawthorn Street, California Street and Grape Street, according to a Civic San Diego staff report.
Solar Turbines, a global supplier of gas turbine power systems, is located on a 27-acre site at 2200 Pacific Highway, where it has operated for the past 87 years. The company is a division of Caterpillar Inc.
Leaders of Solar Turbines sought the zoning change in order to head off future environmental-related disputes that could potentially impact its local operations. City officials said the buffer zone will help minimize incompatible land uses in the neighborhood, while protecting existing core industries.