Luna Grill Is Expanding, Plans Texas Locations
Tuesday, February 25, 2014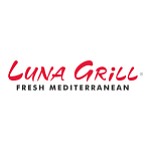 Luna Grill is accelerating its expansion and has selected Texas to host the first group of out-of-state locations, the company said.
Luna Grill opened its latest eatery in December in Irvine, ending 2013 with 10 restaurants. Four new stores are set to open within the next four months in California, including in Poway and Rancho San Diego, the company said. Luna Grill currently has seven eateries in San Diego County
The San Diego-based Mediterranean restaurant chain selected the Dallas-Fort Worth area to build a cluster of Luna Grill stores and expand operations. According to the company, the first out-of-California store will open in the summer in Flower Mound, Texas.
Luna Grill is pursuing an aggressive expansion plan. Last year, a new store development funding facility was secured from Argent Bank, a fully owned subsidiary of Sterling Financial Corp, the company said.
Luna Grill is owned by Premier Food Concepts LLC, headquartered in San Diego.