$40 Million SpringHill Suites Hotel Debuting in Oceanside
Thursday, February 6, 2014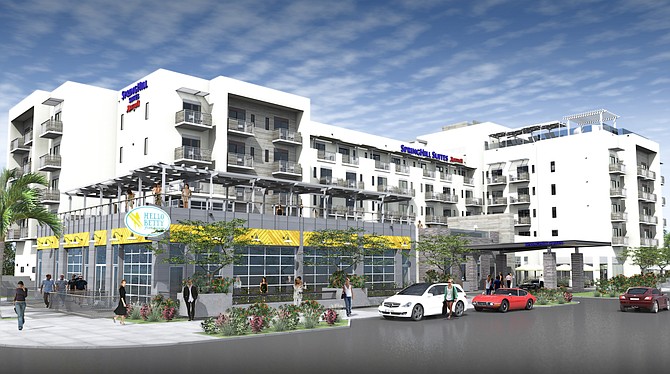 GF Properties Group LLC has completed its new $40 million SpringHill Suites by Marriott hotel in Oceanside, set for a Feb. 11 opening at 110 N. Myers St.
The 149-suite property is being managed by Sage Hospitality of Denver. Owner GF Properties Group is a wholly-owned subsidiary of the Southern Ute Indian Tribe, based in Durango, Colo.
Operators describe the all-suite hotel as a "stylish retreat" with a coastal "casual vibe." Rooms have desks with ergonomic chairs, and there is high-speed Internet access in each suite and complimentary Wi-Fi in the lobby.
The property has amenities including surf-inspired artwork, an outdoor swimming pool, fitness center, guest laundry facilities, and a 24-hour convenience market in the lobby.
Operators said the SpringHill Suites has 2,235 square feet of meeting space, to accommodate gatherings of up to 120 people. The property has been designed to meet standards of the U.S. Green Building Council's Leadership in Energy and Environmental Design program.