Craft Beer-Focused Eatery Opens in University Towne Center
Sunday, December 7, 2014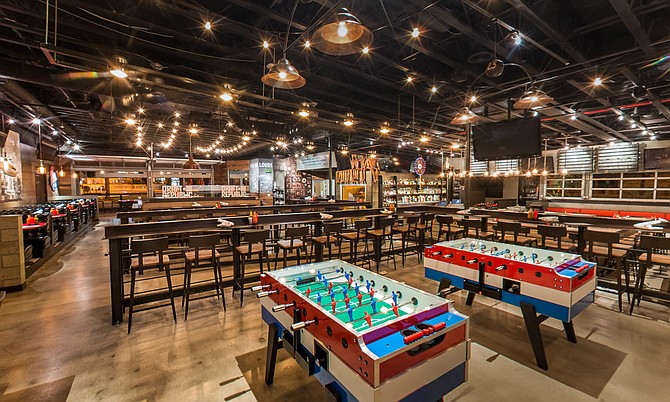 San Diego-based Cohn Restaurant Group has opened Draft Republic, a new beer-focused restaurant concept in the University Towne Center neighborhood.
Operators said the full-service restaurant and bar features American cuisine that includes house-made sausages, with 36 mostly local craft beers on tap. It is located at 4282 Esplanade Court, in a renovated space that formerly housed Cohn's La Jolla Strip Club steak restaurant.
Draft Republic has nine fully retractable garage door installations that can be opened to create a more airy atmosphere, and the venue has a "neighborhood pub" vibe with picnic tables and game tables including foosball, ping pong, shuffleboard and billiards.
The executive chef is New Zealand native Mike Camplin, who previously worked at several top New York restaurants, and various chicken, beef and vegetarian items are also on the menu. The venue was designed by Philippe Beltran, who also designed Cohn restaurants such as OB Warehouse and BO-beau kitchen + bar.
Headquartered in Old Town, Cohn Restaurant Group was founded in 1982 by David and Lesley Cohn. The company operates 23 restaurants in San Diego County, Long Beach and Hawaii.