Admiral Discusses Navy's Local Needs and Role
Tuesday, August 19, 2014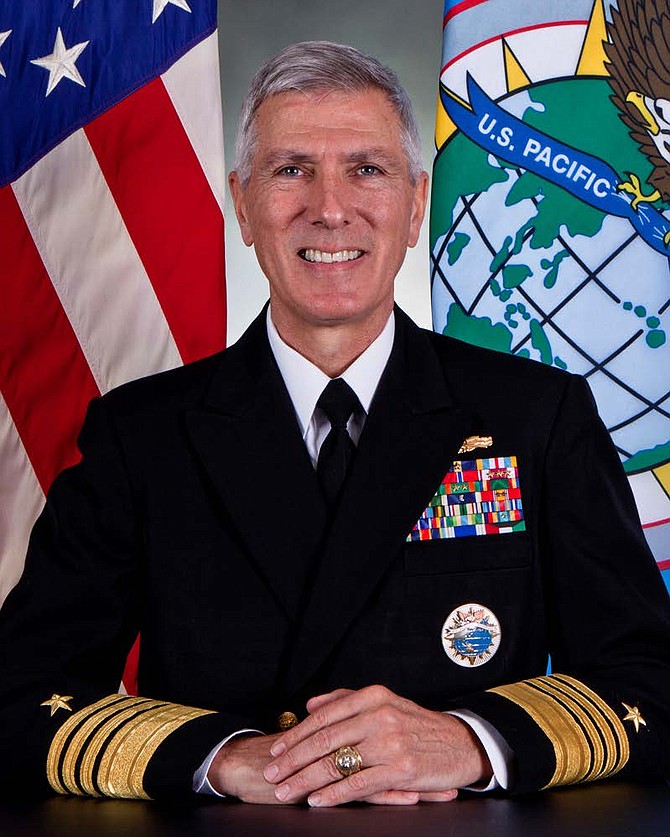 Constrained defense budgets and constraints to the Port of San Diego were two domestic topics that Adm. Samuel Locklear III touched on during a visit to San Diego Aug. 19. The commander of the U.S. Pacific Command has responsibility for the globe "between Hollywood and Bollywood."
San Diegans need to know how important their city is to the Navy, Locklear told media representatives following a breakfast address to the San Diego Military Advisory Council. The port, however, is "pretty crunched" geographically, as the region continues to experience population growth.
Locklear emphasized that the Navy needs a place where it can maintain its ships. Repair facilities need to be close to where the ships are, Locklear said.
In recent years, San Diegans have debated whether ship repair businesses, related industry and what is known as the "working waterfront" can share space with other uses, such as more homes or even a stadium.
"We can work together as a community," Locklear said, though he added that the relationship may require some sacrifice.
Locklear told his SDMAC audience that the Miramar air show will return in October — but it might not be back in the future as the Pentagon grapples with the budget cuts called sequestration. Congress gave the military a break in 2014 and 2015. "This whole sequestration thing is going to be back in '16," the admiral warned.
With the budget crunch, military brass may consider a new base closure round, known as BRAC, he said.
Locklear also talked extensively about foreign policy, addressing China, Russia and territorial conflicts involving islands in the China Sea. Frustrated and poor young people will likely create instability, he said, but the news is not all grim. As the world population swells to 9 billion, the Pacific region is poised to become "the economic engine of the world," Locklear said — six words which may spell opportunity for business.