Del Mar Highlands Town Center Plans $50 Million Expansion
Sunday, April 27, 2014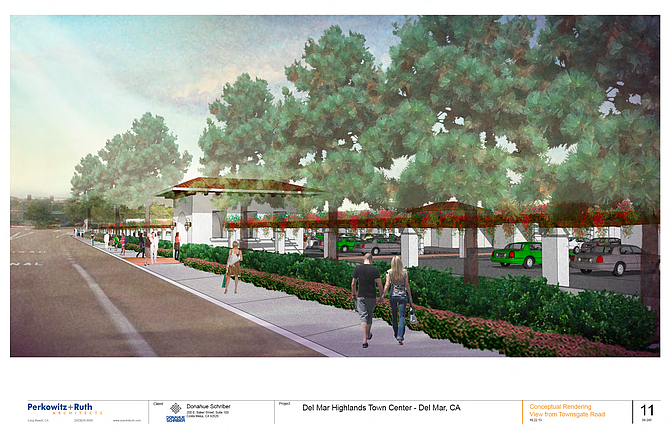 Shopping center owner and operator Donahue Schriber plans approximately $50 million in improvements at Del Mar Highlands Town Center in Carmel Valley, including a parking structure, movie theater expansion, and new stores and eateries.
Company officials said plans call for adding about 80,000 square feet of retail space to the center's current 283,000 square feet. There will also be a three-screen expansion of the center's existing eight-screen Cinepolis Luxury Cinemas, and a new building housing a KinderCare Learning Centers location.
The three-level parking structure will be built along Townsgate Drive, expanding an existing parking field behind the center. All of the center's current parking is in surface lots.
The parking structure will have about 600 new parking spaces and will include top-level walkways, three pedestrian entries and landscaped trellises.
Construction is expected to begin in late 2015 and conclude in mid‐2017, officials said. The center will remain open during construction, and operators will be conducting consumer surveys to gather input on coming improvements.
The retail center was entitled in the mid-1980s, with city-approved plans allowing for a total of 425,000 square feet of retail and a parking structure. The center opened in 1989 at the intersection of Del Mar Heights Road and El Camino Real, and completed a $20 million renovation in 2011.
Based in Costa Mesa, Donahue Schriber is a private real estate investment trust that owns and operates 74 retail centers in five states, totaling more than 11 million square feet.
For more on this story, see the May 5 edition of the San Diego Business Journal.