New Bike Trail Segment Connects With Oceanside Transit Center
Sunday, April 13, 2014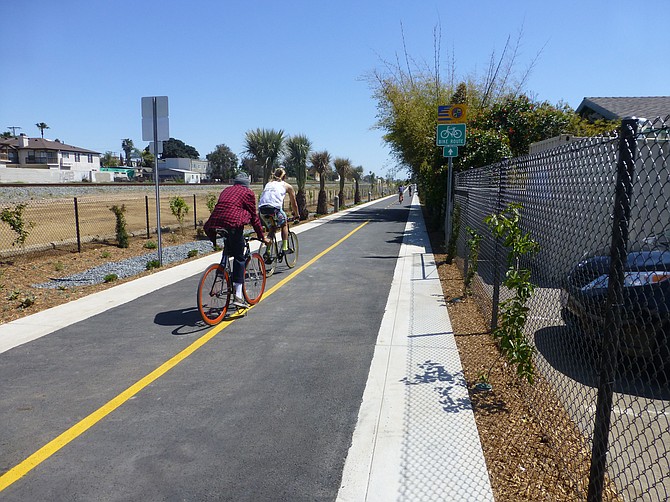 Regional officials have completed a new 2,000-foot Oceanside segment of the Coastal Rail Trail, a bikeway that will eventually span 44 miles from Oceanside to San Diego.
Officials from several agencies recently gathered in Oceanside to mark completion of the $2.45 million project. The new segment is located along the railroad between Oceanside Boulevard and Wisconsin Avenue.
The path is separate from vehicle traffic and connects with another segment of the Coastal Rail Trail at Wisconsin Avenue, providing a direct ride to the Oceanside Transit Center, officials said. The city of Oceanside is planning to build a bike parking station next to the transit center.
Planning for the Coastal Rail Trail is being coordinated by entities including the San Diego Association of Governments (SANDAG), the city of Oceanside and North County Transit District. The Oceanside-based transit district owns the public right-of-way where the bike path lies.
The Oceanside segment of the rail trail is the first project completed under SANDAG's Regional Bike Plan Early Action Program, a $200 million initiative adopted by the SANDAG board in September 2013.
The program consists of 42 regional projects totaling 77 miles of bikeways, and SANDAG has set a goal of completing the projects within a decade.
Officials said the latest bike project was funded through a mix of federal and local sources, including about $1.52 million from a federal transportation enhancements program and $931,000 from TransNet, the regional half-cent sales tax for transportation administered by SANDAG.
SANDAG is a regional planning agency, governed by a Board of Directors consisting of officials from 18 cities and the county of San Diego.