HOSPITALITY: PLANNED DOWNTOWN SITE IS 22-STORIES
Financing Climate Spurs Hotel Growth
Monday, July 8, 2013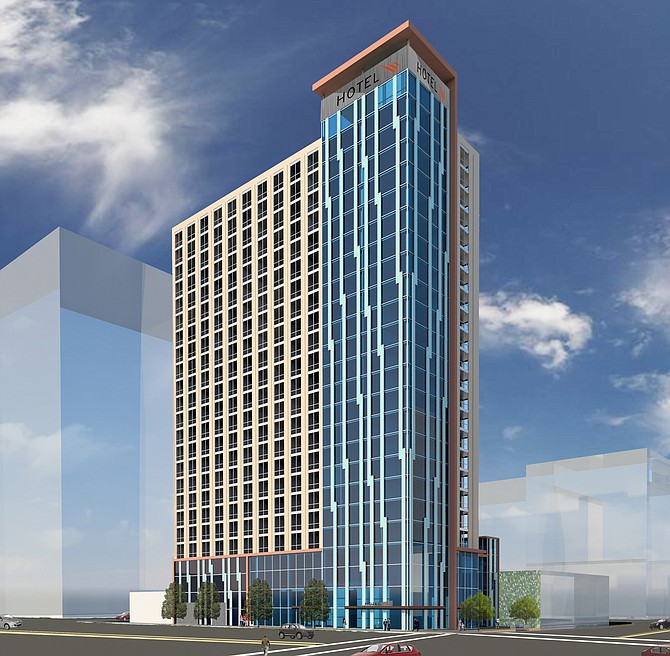 That 18-story project, originally proposed in 2007 and approved in 2010, is planned for a site on A Street, between India and Columbia streets. Developers could not be reached for comment on the project's current status.
According to Civic San Diego, Chhatrala Group recently received a three-year renewal of its 2010 approvals, while it finalizes financing for the project.
Lucy Contreras, a senior planner with Civic San Diego, said officials this year have seen an uptick in developer inquiries about downtown projects, though most of the projects currently underway are mixed-use apartment developments, primarily in East Village.
"There does seem to be a rise in interest about hotel projects, although most of the current developments coming through or under construction are multifamily residential projects," Contreras said.
Elsewhere in the downtown area, hotel projects garnering city and port district approvals over the past year have included a dual-hotel, 364-room project in the works at the former Fat City site on Pacific Highway, being built by T2 Development of Newport Beach; and a 400-room, dual-hotel development at the former site of Lane Field ballpark, being developed by LPP Lane Field LLC, which includes locally based Lankford & Associates Inc.
Robert Rauch, president of San Diego-based hospitality consulting firm R.A. Rauch & Associates Inc., said the local region is in the early stages of what could be a three-year run in new hotel development.
Building Rather Than Buying
That's largely because interest rates remain historically low, even amid rampant talk that they could rise in the coming year as the economy improves. In the current climate, Rauch said, developers and lenders realize that the cost of building a local hotel in a prime location is often lower than buying an existing property.
Financing prospects in recent months have improved significantly from where things stood during and just after the Great Recession, when funding for hotel construction dried up. Well-capitalized hotel developers are now finding lenders willing to move beyond long-popular investment sectors like multifamily housing.
"The hotel financing climate is excellent right now," Rauch said. "I would compare it almost to where it was in the 2004-05 period."
Prev Next