REAL ESTATE: DEVELOPER MOVES AHEAD WITH PROJECTS
Market Trends Bring Housing Developments
Monday, January 21, 2013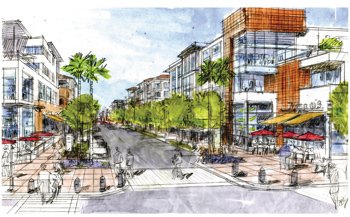 Prominent local builder The Corky McMillin Cos. will be responding to the newly awakened housing market by pressing forward this year on two San Diego County projects long delayed by a sluggish economic recovery.
Quarry Creek, the company's proposed 656-home development on a rehabilitated former quarry property in Carlsbad, is expected to go before city planners in February. And the company's $4 billion mixed-use Millenia development in eastern Chula Vista is expected to break ground by mid-year, with a first phase of approximately 750 residential units in the works.
"We think there are elements that are lining up, so that we should be able to benefit from this recovery," said Todd Galarneau, senior vice president with San Diego-based Corky McMillin Cos.
The 210-acre Millenia, in planning over the past five years, is being developed by McMillin and Dallas-based Stratford Land. It is envisioned as a high-density urban village that could eventually have up to 3,000 residential units when fully built out in coming decades.
The first phase, to be developed over a six- to eight-year span, will likely include a mix of apartments and for-sale condominiums, with a mix yet to be finalized. Galarneau said local developer Sudberry Properties is scouting tenants for what would be a gateway retail center for Millenia, and McMillin is in talks with various other developers to build hotels and office buildings in the first phase.
Merits of Locale
In addition to an improving housing market, Galarneau said McMillin is basing its planning on a belief that Millenia can now benefit from recent infrastructure improvements in the South County region and others on the way, such as a proposed border crossing terminal serving the Tijuana airport. Millenia also has close proximity to the county's Brown Field regional airport.
The developer anticipates that a rising presence of global firms' manufacturing facilities south of the border could raise demand for administrative offices in South County, and those offices might locate at Millenia. Workers at those offices might also choose to live at Millenia, and hotels on the property could serve corporate travelers as well as visitors to local attractions, such as SeaWorld's upcoming Aquatica waterpark in Chula Vista.
McMillin is also looking to break ground by late 2013 or early 2014 on the residential component of Quarry Creek, part of a larger development at the border of Carlsbad and Oceanside. Homes would be served by a retail center that is already operating on the Oceanside part of the property.
Prev Next