'Lab Partner': Shared Space Is Big Help to Small Firms
SCIENCE: Janssen Labs Supports Biotech Startups With Facilities, Services
Monday, February 11, 2013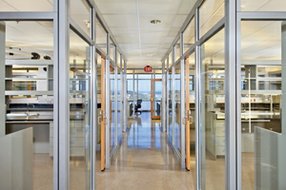 No Strings Attached
Janssen Labs follows a no-strings-attached model — surrendering a stake in the startup's revenues to Janssen Labs or parent company Johnson & Johnson Services Inc. is not a prerequisite for working in the lab space.
"We may pursue it, but we don't have to have a financial stake in the companies," Miralles said. "The financial investment in the company is completely separate from the company being in Janssen Labs.
Yang's company has already moved into the new open collaboration space, and three others are under review, Miralles said.
Many of the companies are California-based, but the lab space offers out-of-state companies an opportunity to build a presence in San Diego. Current tenants of the modular lab spaces include Ann Arbor-based Everist Genomics, which develops diagnostics for cancer and cardiovascular disease; Bologna, Italy-based Silicon Biosystems, which uses microchip technology to manipulate and sort cells, and Yolia Health in Mexico City, which works to modify patients' corneas to improve vision.
Evaluation Process
Companies are chosen from the biotech, pharmaceutical, medical device and diagnostics arenas, and are evaluated based on their scientific credibility, proof of medical or market need, and whether they demonstrate financial solvency.
Small-scale lab facilities are otherwise rare in San Diego, Yang said. She explored several options before approaching Janssen Labs.
"I was just interested in a small bench space, so I was looking at other companies that were subleasing within their own labs, and that wasn't really working out," Yang said. "They couldn't afford to allow me to share certain equipment or reagents because they had to be kept separately. Someone pointed out Janssen labs, saying this might be a better situation — and indeed it was."
Prev Next