Qualcomm to Introduce 64-Bit Snapdragon Microchip
Wednesday, December 11, 2013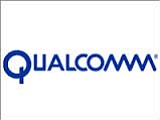 Qualcomm Inc. announced that it was venturing into the world of 64-bit processing with the introduction of its Snapdragon 410 cellphone microchip.
Qualcomm (Nasdaq: QCOM) said the chip was suitable for the Chinese market. Its many features include fast 4G LTE data delivery.
Chips with 64-bit processing promise higher performance, and because chip geometries are getting smaller, they offer that performance while saving power, said Rory Moore, CEO of CommNexus, the San Diego region's telecommunications industry association.
"The Snapdragon 410 chipset will also be the first of many 64-bit capable processors as Qualcomm Technologies helps lead the transition of the mobile ecosystem to 64-bit processing," said Jeff Lorbeck, senior vice president and chief operating officer of Qualcomm Technologies, China, in a statement. Qualcomm Technologies is the chip making unit of Qualcomm, which is San Diego's largest public company.
The company said it will produce samples of the Snapdragon 410 in the first half of 2014. The chip is expected to be in commercial devices during the second half of the year.
Apple Inc. announced a 64-bit chip for smartphones earlier this year.