PROPERTY: SALES AND PRICES ARE UP; COUNTY FACES LACK OF HOUSING INVENTORY
Moving in a New Direction
Monday, September 17, 2012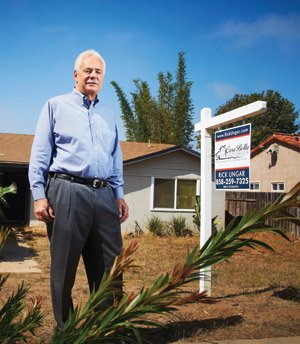 "We're definitely off the bottom. We're not far off the bottom, but we're off of it," London said. "It was a long down cycle, and it will be a long way up again."
Banks Are Being Selective
He cited higher home sales and prices this year than at any time in the last four years, plus a dramatic decline in the number of distressed properties.
And while mortgage rates are at historic lows (falling below 4 percent), banks are being extremely selective in who they approve, London said.
"Typically the banks are the last to jump in because from their perspective, they were damaged the most," he said. "The market can't fully recover until all the players are in, and the banks are clearly not all in."
The food chain involved in the sale of housing may have taken a major hit some four-five years earlier, but things have picked up noticeably this year, said Mark Goldman, a lecturer at San Diego State University and mortgage broker at C2 Financial Corp. "I'm having my best year since 2007," Goldman said. "And most of (the increase) is from purchase business as opposed to refinancing, which is also a sign of the vitality of the market."
But not everyone was on the same page. Berger, a veteran broker who has been through several cycles, says things are a somewhat better than in the recent past, but the lack of inventory and increased competition means it's more difficult to put deals together and keep them in escrow.
"I don't know if anybody is getting rich in this market," he said.
Prev Next