PROPERTY: SALES AND PRICES ARE UP; COUNTY FACES LACK OF HOUSING INVENTORY
Moving in a New Direction
Monday, September 17, 2012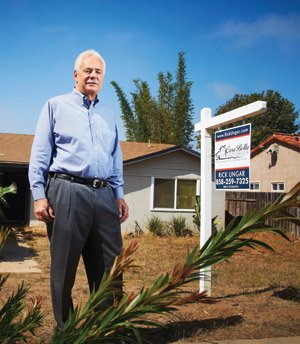 In some cases, borrowers are receiving cash payments from banks to do a short sale, proving they are eager to dispense with a property where a borrower has stopped making monthly payments, he said.
Distressed Sales Are Declining
Distressed sales, either foreclosures or short sales, made up 40 percent of July's sales in Southern California, the lowest amount since February, said the latest Dataquick report.
San Diego's meager for-sale inventory can also be traced to the fact that this region didn't build as much on speculation in the run-up to the bubble bursting, said Alan Nevin, principal with the London Group Realty Advisors, a real estate consulting firm.
"We literally have one of the smallest supplies (of for-sale housing) in the nation," Nevin said. "The reason is that we never over-built here because we didn't have enough lots as they did in Phoenix and Las Vegas."
Nevin said foreclosures have been declining in recent years as the number of houses sold using subprime loans from 2005 to 2007 gets resolved in some way. "The pig is almost through the snake," he said. "We've almost run out of all the homes that were purchased (with those subprime loans) in that timeframe."
While many local housing sources say the local market is exhibiting clear signs of recovery, Matt Battiata, chief executive of Battiata Real Estate Group in Del Mar, takes a contrarian view.
The constrained inventory of houses pushed median prices up for the traditional spring season, but the overhang of shadow inventory, or houses that are in default but haven't been taken back by the banks, will continue to depress the market, Battiata said.
Not There Yet
"The low inventory is a good thing but when you factor in the shadow inventory, it's going to pull prices down," he said. "I think we're one or two years away from the market starting to turn around."
Battiata estimates that about a third of the houses with a mortgage in San Diego are under water, or owe more on their mortgages than the home's market value.
Using the analogy of turning around a large cruise ship, he says while the ship may have slowed down and seems to be drifting, it'll take a while before the engine of a normal market takes hold again.
"If we start the recovery in 2015, that's somewhat optimistic," Battiata said.
Gary London, president of the London Group, said the local housing market is definitely on the mend, but the recovery will be slow.