BANKING: SELLING OUT SEEMS LIKE BEST OPTION IN DIFFICULT ENVIRONMENT
Community Banks Face Big Decisions
Monday, September 10, 2012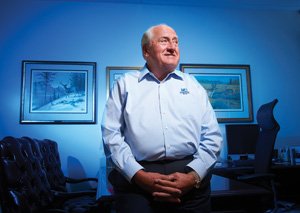 So what does this ongoing consolidation mean for the remaining banks and consumers?
While there may be fewer options, options still exist and consumers won't be impacted that much, says Alan Lane, chief executive of Silvergate Bank in the University Towne Center area. Silvergate is another lender bucking the trend of shrinking in size mainly because it avoided a lot of mistakes made by other banks prior to the financial crisis.
"We made a conscious decision not to participate in a lot of the excesses that were going on," Lane said.
Instead of growing, Silvergate cut way back on lending. As a result, by 2009 while many other lenders were dealing with higher amounts of problem loans and stopped lending, Silvergate was picking up lots of new business.
As of June, it had $560 million in assets, nearly doubling the $284 million in assets held at the end of June 2008.
Lane said his bank is at a size where it can weather the ongoing increases in regulatory oversight brought on by the passage of Dodd-Frank, which is penalizing smaller banks when it was the biggest banks that caused most of the problems.
"There's a big push to rein in the excesses that led to the downturn, but (regulators) are going overboard. It's like swinging a baseball bat to hit a fly," Lane said. "The community banks are being lumped in with the biggest banks and the community banks weren't the source of the problem."
Despite the headwinds, there will always be community banks in this area because many small businesses prefer knowing their bankers, and having the ability to talk with them when necessary, rather than dealing with layers of decision makers, several bankers said.
When it comes to the customer service small businesses receive at community banks, it's a sharp differentiator from the larger lenders, said Rick Levenson, president of Western Financial Corp., a private investment firm that specializes in community banks, and a director on two bank boards.
"What it comes down to is, do you like shopping at Walmart or do you like shopping at Nordstrom's?" he said.
Prev Next