BANKING: SELLING OUT SEEMS LIKE BEST OPTION IN DIFFICULT ENVIRONMENT
Community Banks Face Big Decisions
Monday, September 10, 2012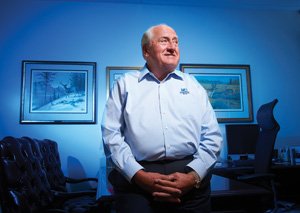 AmericanWest, which also acquired San Diego-based Sunrise Bank in 2011, is now at $2.5 billion in assets and 74 branches, spread over four states.
Another merger that reduced the local bank number occurred when Embarcadero Bank purchased Coronado First Bank, and took its name. Also, PacTrust Bank, formerly based in Chula Vista, moved its headquarters to Irvine to be closer to the new acquisitions of its holding company, First PacTrust Bancorp.
The biggest challenge among smaller banks when they're launched is growing to a size where the loan portfolio throws off regular profits, and its efficiencies improve, said several bankers.
Mike Perry, chief executive of San Diego Trust Bank, said that magical number used to be about $100 million, but in recent years because of thinner profit margins, and increased costs, the new threshold is likely closer to $250 million to $300 million, or even above that.
Without any great loan demand, and lots of competitors chasing the same borrowers, it's much harder to grow to that size within a reasonable time, Perry said.
No New Banks Since 2008
Not only has the consolidation activity cut the number of community banks, there are no new banks taking their place, bankers point out.
The last local bank launched here, Vibra Bank, opened in 2008.
In contrast, from 2000 to 2004, 15 new banks were launched in the county, including the Bank of Internet USA, which proposed to serve the entire nation through an entirely online operation.
Greg Garrabrants, chief executive for the bank now called BofI Federal Bank, said it's highly unlikely there will be any new banks formed in the next few years because it's easier and cheaper to buy a bank.
BofI increased its assets by about $500 million over the past year to $2.4 billion, a phenomenal rate given the state of the economy.
"The nature of the economics of this business is such that you need to have scale to run a bank," Garrabrants said. "The increased regulatory burden and the prolonged (low) interest rate environment has had negative effects on community banking."
Investors Not Interested
A more compelling reason behind the lack of new banks is the fact that finding investors for such an enterprise would be challenging.
"Who would want to do it?" asks Hartwig. Back in the late 1990s when bank stocks were hot, and selling for more than twice their book value, the investment play made a lot of sense, and investors were relatively easy to attract, he said. Today, the average bank stock is going for about 65 percent of its book value, meaning sellers are taking a loss.