BANKING: SELLING OUT SEEMS LIKE BEST OPTION IN DIFFICULT ENVIRONMENT
Community Banks Face Big Decisions
Monday, September 10, 2012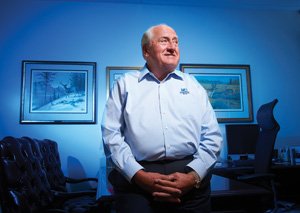 For the most part, the banking industry has recovered from the turmoil of the financial crisis. Mega-banks such as Wells Fargo, JP Morgan Chase and U.S. Bank, along with lots of regional banks like Union Bank, Pacific Western Bank and Comerica continue to log higher profits, but it's quite a different story with community banks.
In San Diego, a combination of low loan demand, lower interest rates and increased regulatory expenses caused a larger number of smaller lenders to throw in the towel, and sell their franchises to larger, better-capitalized banks.
From a total of 22 community banks based in San Diego about a year ago, the area now has only 16 institutions with headquarters here.
The fallout is even more dramatic looking back to the peak of local banking in 1985. According to the state's Department of Financial Institutions, the county was home to 50 banks and savings and loans that year. In 2004, the number dropped to 34, the DFI said.
"There're a lot of headwinds out there for the banking industry," said Larry Hartwig, who engineered the sale of California Community Bank to Grandpoint Capital, a Los Angeles multibank holding company this year.
Dodd-Frank Increases Costs
At the top of his list of causes for the reduction is the Dodd-Frank banking reform legislation that increased regulatory compliance costs for every bank, but hurt smaller banks the most, Hartwig said.
For example, adopting an automatic filing system for suspicious banking activity will likely cost a small bank $30,000 to $40,000 annually, he said.
It was a bunch of higher expenses such as that, along with a crummy economy that caused loan demand to dry up, along with lower interest rates (cutting into profits) that caused CCB's board of directors to consider selling in late 2010.
The $240 million bank entertained a number of suitors through much of 2011, until it struck a deal with Grandpoint, announced in January, which officially closed last week.
CCB will be merged into Regents Bank, another local lender that was sold to Grandpoint a year ago.
CCB's departure was mitigated somewhat by the fact that most of its branches and staff will be retained by Regents, which kept its branches, staff and name after the sale.
Mergers Abound
Earlier this year, Security Business Bank of San Diego was sold to AmericanWest Bancorp. That Spokane, Wash.-based lender was acquired in a 2010 federal bankruptcy court transaction by SKBHC Holdings, a private equity group, for a relative pittance, about $6.5 million.
Prev Next