E-COMMERCE: DEVICES GIVE MERCHANTS EASY WAY TO TAKE PLASTIC PAYMENTS
Getting in the Card Game
Monday, September 3, 2012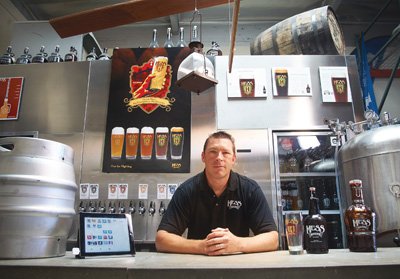 Pay With Square has attracted the attention of one of Neal's monolithic competitors: Starbucks. Beginning in the fall, Starbucks will accept Pay With Square at about 7,000 stores. The Seattle corporation is also investing $25 million in Square as part of the tech company's Series D financing round.
Other technology companies aren't content to let Square have all of this business.
San Jose-based PayPal, which is part of online retailer eBay Inc., has come to market with a service called PayPal Here. Like Square, PayPal distributes a card reader that plugs into mobile computers. PayPal charges merchants 2.7 percent of each transaction.
Local merchants that use PayPal Here include Jobir Aslonov of San Diego City Taxi Service. Aslonov reports that 30 percent of his fares pay using Visa, Mastercard, American Express or Discover cards.
Some people feel that while Square has served them well in the past, it's time to move on.
Scott Bergen, who runs SDRC Raceway in the Miramar area, reports that he is phasing out his Square payment system — though he plans to keep it as a backup.
Bergen runs a track for miniature radio-controlled racecars. His 20,000-square-foot building contains an "off road" track with a clay surface and rolling hills. Bergen also runs a pro shop to sell and service the 1/10th scale cars.
Better for Small Transactions
It's easy to spend up to $1,000 on the hobby, Bergen said, adding that a 2.75 percent charge on a transaction that large would hurt. "We lose our butt on Square," Bergen said, adding that Square is better for small transactions.
Square recently introduced a second pricing plan geared to higher-volume users. It's a $275 monthly fee, with no charge per transaction.
Small businesses, of course, have other choices for credit card processing.
Edward Orysiek, who runs San Diego CardSmart Merchant Services and POS i in Kearny Mesa, offers a range of devices.
In Orysiek's opinion, solutions such as Square are good for low-volume work. For example, he says garage sales might benefit from Square.
Orysiek's competing solution for smartphones and tablets comes from Houston-based eProcessing Network LLC. His website advertises the service for a $35 one-time fee, plus $20 per month. The first 250 transactions are free. Afterward, transactions cost a nickel apiece. An optional secure card reader that plugs into a computer's audio jack costs $49. There's also an optional printer that connects via Bluetooth.
The business touts the solution as appropriate for people who work by themselves as personal assistants, auto detailers, handymen or taxi drivers. Food trucks and tow trucks can use it, as can people who work street fairs and flower stands.
With October around the corner, a very specialized class of entrepreneur may be interested to know that the solution works for one other thing.
Does this haunted house take credit cards?
Why, yes. It does.
Prev Next