HEALTH: INVESTMENT IN EMPLOYEE WELLNESS PAYS OFF FOR COMPANIES
Putting a Price on Good Health
Monday, October 8, 2012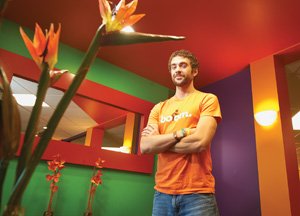 Wellness program providers can substantiate financial returns as incentives for corporations to get on board with health-wise activities but equally important motivators include improving workplace culture, increasing staff productivity, and maintaining a recruiting and retention tool.
Debi Heck, vice president programs solutions and health strategies at San Diego-based American Specialty Health, a provider of the nationally known Healthy Roads corporate wellness program, says companies that participate in wellness programs can expect to break even on their investment the first year and start to realize savings of $3 for every dollar invested by year three as a broad industry standard.
"If we can get people to reduce their stress levels, exercise more, lose weight and quit using tobacco, research shows that will actually contribute to lower health care costs down the road," she said.
The heart of the comprehensive wellness offerings is a health risk appraisal, called a personal health assessment, which includes a personal action plan derived from the assessment. Heck said activities are tailored to the clients and include tracking weight, blood pressure and cholesterol levels and engaging participants in online competitions and challenges. One goal may be to walk 100,000 steps a month and rewards for completing the goal could be earning a reduction on health insurance deductibles, premium reductions, health savings account reimbursements or cash prizes.
American Specialty Health has been a pioneer in telephonic lifestyle coaching and disease management in which participants meet regularly by phone with coaches to work on goals and objectives such as getting more exercise while traveling for business, or making sure they're following their medical regimens. Participants are encouraged to devise a plan of action they can sustain and make changes in their own behaviors and actions. The main areas of focus are tobacco cessation, weight loss, weight management, stress management and healthy eating.
Online Reporting Tool
An online reporting tool is made available to clients from the outset so American Specialty Health can measure ongoing engagement rates. From an aggregate perspective, Heck said they can identify how many people were involved in coaching or engaged in the competitions and challenges, and they can measure outcomes such as whether the participant quit smoking.
A former American Specialty Health staffer, Bryan Van Noy, joined forces with Danna Korn in 2007 to create a socially engaging wellness program under the banner Sonic Boom Wellness. Based in Carlsbad with 20 full-time employees, Sonic Boom's customizable programs offer games or modules geared around the daily health habits and physical activity of the participants.
Prev Next