BIOTECH: BUY PUTS RESOURCES, REGION BEHIND PROMISING EFFORTS
Envoy's Team to Join Takeda's Local Forces
Monday, November 26, 2012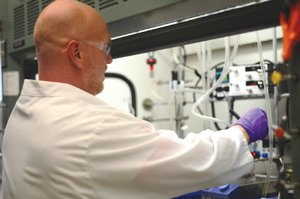 TAKEDA CALIFORNIA INC.
CEO: Keith Wilson, president and chief scientific officer.
Revenue: Not applicable. Takeda California is a drug discovery research division of Takeda Pharmaceutical Co. Ltd.
No. of local employees: 200.
Headquarters: La Jolla.
Year founded: Takeda San Diego was formed in 2005 following Takeda's purchase of local biotechnology company Syrrx. Takeda San Diego was renamed Takeda California in January 2012.
Company description: Takeda California designs innovative new medicines to treat cancer, and various metabolic and immune disorders.
Key factors for success: A strong commitment to innovation in drug discovery. Community involvement.
La Jolla-based Takeda California Inc...