HEALTH: ENVIRONMENTS ARE MORE SOOTHING, PRIVATE
Little Things Count in NICU Upgrades
Monday, November 5, 2012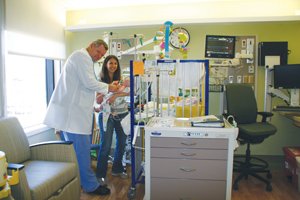 At Sharp Mary Birch Hospital for Women & Newborns on Health Center Drive in Kearny Mesa, which handles the largest number of births in the state with more than 8,400 births in 2011, the NICU is in the midst of expanding from 61 beds to 84. The expansion is part of an overall $30 million expansion and renovation at Sharp Mary Birch that includes enlarging a Perinatal Special Care Unit to 36 beds and increasing a Women's Acute Care Unit to 14 beds.
Similar to Kaiser, Sharp Mary Birch is transitioning from an open concept setting to one that affords more privacy with about half the area converted to private rooms. While several areas of the NICU have already opened, one section is still in progress and is expected to be completed by the end of the year.
Toward that goal, a neurologic intensive care nursery with nine beds will be opening within the NICU by the end of November. The nursery will be staffed with specially trained nurses, occupational therapists and physical therapists who will work with babies at risk for neurological problems or conditions such as seizures.
Dr. Paul Wozniak, neonatologist and medical director of neonatal medicine for Sharp HealthCare, said the new facility will accommodate remote monitoring of brain wave testing as well as body cooling, a treatment used for babies who lack oxygen at birth.
Wozniak said one of the more impressive features in addition to converting to private rooms is bringing in natural light into every area.
"It's been noted for promoting healing and health," he said. "Plus it's much nicer for the patients and the staff."
Rady Children's Hospital–San Diego was a pioneer for introducing private rooms into NICUs in the county when its Acute Care Pavilion opened in October 2010.
Dr. Brian Lane, a neonatologist and medical director of the developmental high-risk infant follow-up at Rady Children's Hospital, said the NICU has 23 single rooms and 12 semiprivate rooms. He described the single rooms as being more developmentally appropriate and much quieter than the large open space, with fewer intrusions from the babies' ventilators and monitors that sound alarms.
"Before there were 20 babies in one big space, and if one baby's alarm goes off, that increases the noise level for all the babies," said Lane, adding that the more spacious 185-square-foot rooms are designed so parents can spend the night. "As a parent, I know if my baby was in the ICU I'd sure appreciate the chance to be there as much as possible."
Prev Next