HEALTH: ENVIRONMENTS ARE MORE SOOTHING, PRIVATE
Little Things Count in NICU Upgrades
Monday, November 5, 2012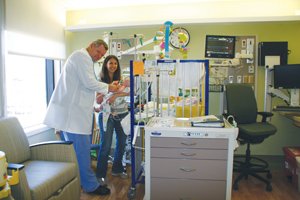 Families have the opportunity to spend more quality time with their newborns as area hospitals make privacy a priority when upgrading their neonatal intensive care units.
Kaiser Permanente and Sharp HealthCare are among the latest health care facilities to step up their NICU accommodations locally on the heels of Rady Children's Hospital-San Diego.
Kaiser's $20 million makeover to its NICU at the San Diego Medical Center on Zion Avenue was just unveiled in late October when the facility moved from a 5,000-square-foot space on the fourth floor to a 15,000-square-foot space down the hall, an area formerly occupied by the head and neck surgery clinic.
In place of rows of Isolettes lined up in one large area, the new NICU is divided into 24 single beds in private rooms with six additional beds in shared rooms. The space is flexible to accommodate twins or even quadruplets in one contiguous area.
Dr. Matthew Sebald, medical director of the NICU at Kaiser Permanente in San Diego, points out the NICU is now immediately adjacent to the Labor and Delivery Department, but its main advantage is improving the quality of life for families who can hold their baby or breast-feed in a private and soothing environment.
"I'm a little bit nostalgic about leaving the old NICU, but parents didn't have much privacy and they had to leave while doing things like sign-outs with patients," Sebald said. "Here they can stay as long as they want."
Staying Close
Extended stays are made easier with chairs that fold into beds and access to several showers within the NICU. Although much of the equipment will remain the same, Sebald said an upgraded monitoring system will ensure medical attention is immediately available.
"The quality of care has been great so that shouldn't change," he said.
Another addition to the space is windows with views to the outside, and diurnal lighting that mimics the natural cycle of light outdoors.
Kaiser has also improved accommodations for high-risk expectant mothers with the addition of eight single rooms in the Perinatal Special Care unit. The $5 million expansion offers patients a comfortable healing environment with private bath/showers and large windows.
"This allows high-risk moms to be in single rooms with a lot more privacy and it puts them right next to NICU and to Labor and Delivery, which are the two most likely places they'll end up," Sebald said.
Sharp Mary Birch Hospital
Prev Next