HEALTH CARE: RECIPROCAL TRAINING OF DOCTORS HAS LONG HISTORY IN SAN DIEGO
Military and Civilian Hospitals Collaborate to Improve Care
Monday, May 28, 2012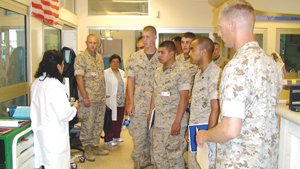 "We work together as a team so the residents are never on their own taking care of the patients," he said. "Most of the patients recognize they have a physician as a teacher and it's a benefit, not a liability."
At UCSD Health Sciences, Dr. Jay Doucet, associate professor of surgery and director of surgical intensive care unit, says its staff collaborates with the military on clinical and basic research programs, some of which are funded by the Department of Defense. A particular area of focus is on injuries sustained by soldiers in Iraq and Afghanistan.
Collaboration Improves Care
Among the areas they're exploring are traumatic brain injuries. Since women generally fare better than men after a brain injury the UCSD researchers are looking into the effects of progesterone, a female hormone that's typically excreted during pregnancy. Another avenue of study involves MRI equipment to show brain activity and the effects of exposure to a blast, from mild concussions to severe brain injuries. Other research is being conducted using an ultrasound as a noninvasive method of determining if someone is going into shock before there are clinical signs.
Further military-civilian collaboration is done using simulation resources at the Naval Medical Center San Diego and UCSD's Medical Education-Telemedicine building in La Jolla. The UCSD facility that opened last year is used to teach surgical and other procedures using high-tech equipment such as mannequins with built-in computers that recreate such things as pulses, blood pressure and heart rhythms.
Doucet, a retiree of the Royal Canadian Air Force who spent 22 years in the military and made six tours overseas, says the exposure to the military makes the care-giving experience more dynamic and keeps their work fresh, even to the point of allowing them to find better ways of doing things. What's personally rewarding is being able to share the scientific and emotional aspects of medicine as it relates to the military.
"It's exciting to re-establish contact and to give a little something back," said Doucet. "When I have to look after the wounded warrior it's a better experience. It's an honor. One of the most important duties I have after looking after patients is training the next generation."
Sharp HealthCare has had its own productive working relationship with the military over the years through such activities as a resource sharing program in which civilian mental health professionals have lent their services to Naval Medical Center San Diego and Marine Corps Base Camp Pendleton. Other sharing opportunities have included military psychiatrists and medical staff treating active duty patients at Sharp Mesa Vista Hospital. Sharp has also offered a substance abuse recovery program to the military and exposed military residents to the diagnosis and treatment of eating disorders through an intensive outpatient program.
Michael Plopper, chief medical officer for Sharp Behavioral Health Services, described the military associates as responsive, professional and well-trained.
"They work well with our staff," Plopper said. "We've enjoyed a very collegial, collaborative relationship with them."
Prev Next