HEALTH CARE: MEDICAL CENTER'S VITAL ROLE SHOULD SAVE IT FROM BUDGET CUTS
Key To Survival
Monday, May 28, 2012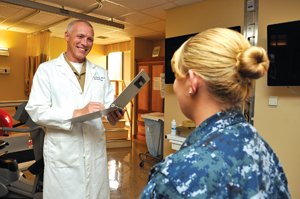 Retired Rear Adm. Kenneth D. Slaght, immediate past president of the National Defense Industrial Association, said there's a general sentiment that the health care portion of the budget may fare better than other aspects of the budget because there is a certain amount of fixed costs that can't go away. Chief among them is care for the wounded warrior as the war in Afghanistan winds down.
There's even the possibility that Naval Medical Center San Diego could grow as other military medical facilities get consolidated, Slaght said. There's still the potential for another round of "Base Realignment and Closures" and health care facilities could fall under that category, he said.
"Balboa could potentially benefit from that if they close down facilities elsewhere," he said. "It's a big, highly effective facility that if you have to move a function that's the kind of place you'd like to move to. It's well established and equipped to take on that function."
Slaght added that the Department of Defense has sent clear signals that the Pacific region will be a high priority theater and the Balboa's operations, particularly its outreach services on the Navy hospital ship Mercy and humanitarian aid missions, will be looked upon favorably in regard to financial decision-making.
Another bright sign was no specific cuts to Naval Medical Center San Diego were indicated under the National Defense Authorization Act, which was passed by the House of Representatives on a 299-120 vote May 18, according to Aaron Hunter, press secretary for Congresswoman Susan Davis. The bill, which authorizes defense spending and appropriations, includes a 1.7 percent pay raise, Impact Aid Funding for military children, transition assistance for members leaving the service, and additional efforts to combat sexual assault. The price tag for the NDAA is $8 billion over spending caps agreed to in the Budget Control Act last year.
Hunter said the $8 billion in potential cuts would be determined by the Armed Services Committee and the appropriators. Still to be worked out is a Senate version of the NDAA, which will meld into one uniform piece of legislation that will be sent to the president for approval.
Hunter said Davis does not want to see further cuts come from the health care or personnel side of the budget.
"While a number of decisions were made to restore cuts from the president's budget, we will need to resolve this difference at some point," Davis said in a statement. "This means that programs will need to be cut. My hope is that the pay and benefits of our brave men and women will not be the bill payer when we must reduce spending in this bill."
Prev Next