HEALTH CARE: MEDICAL CENTER'S VITAL ROLE SHOULD SAVE IT FROM BUDGET CUTS
Key To Survival
Monday, May 28, 2012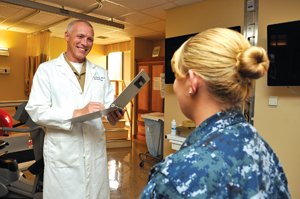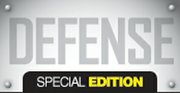 Though military health care services are one of the larger targets of defense spending cuts, local leaders hold out hope that Naval Medical Center San Diego will be spared severe financial hits.
Advantages that weigh heavily in its favor: a Pacific Rim location, significant populations of active duty and retired military personnel in the region, and a national commitment to serving wounded warriors.
Stature also counts for a lot. What started in 1914 as a tent dispensary to support a Marine regiment has grown into a 1.2 million-square-foot multispecialty hospital and ambulatory complex that served more than 20,000 inpatients and over 1.3 million outpatients last year.
Known to many as "Balboa Hospital" for its location in the southeast corner of Balboa Park, the medical center serves nearly 100,000 active duty military members and their families and retirees who are enrolled for care among 250,000 eligible residents locally. Sustaining all of the activity associated with running a 268-bed facility, 11 primary care clinics and 10 dental clinics is a staff of some 6,200 military and civilian professionals and an annual budget ranging from $517 million in fiscal year 2010 to $583 million in fiscal year 2011, not including the salary and benefits of active duty personnel.
Likelihood of Budget Impacts Small
But its funding is largely dependent on a Department of Defense budget that has come under "sequestration," a term for a congressional decision to have automatic cuts of $500 billion from the Department of Defense budget during the next 10 years starting in January 2013. That's on top of $450 billion over a decade of defense cost-cutting that went into effect last year under the Budget Control Act.
Although sequestration will have an impact on facilities and services, specific cuts are not being identified as a strategic move by military planners who don't want the cuts perceived as easily manageable and doable.
Because there is no cost-cutting analysis being produced by the Department of Defense, Joe Kasper, deputy chief of staff for Congressman Duncan D. Hunter, said there is no way to know how one particular facility will be affected.
"It's impossible to say right now what's going to happen with one facility over another," Kasper said. "They're (military medical facilities) necessary, they play a critical role. Generally they rate very high, so the likelihood of significant impacts is small but where there's budget reductions there's always the possibility for some types of impacts."
Prev Next