Executive Profile: Clark Guy
Monday, May 21, 2012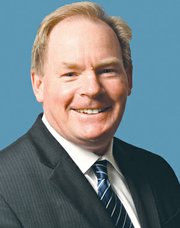 RESUME
Name: Clark E. Guy.
Company: U.S. Trust, Bank of America Private Wealth Management.
Titles: Senior vice president, San Diego market executive.
No. of employees: 26.
Year founded: 1853.
Education: Bachelor of Arts, SDSU, 1986.
Birthplace: San Diego.
Age: 48.
Current residence: San Diego.
Family: Wife, Savonia Guy; daughter, Savannah; sons, Garrett and Connor.
While studying at San Diego State University, Clark E. Guy began his career with Merrill Lynch and had role models there that taught him the value of integrity in a business relationship. In 1998, Guy was hired to manage the wealth management group for Chicago Trust Company of California, an affiliate of Chicago Title. The roles held at Chicago Trust were director and chief investment officer. A few mergers later, Guy was working for U. S. Trust serving the needs of the high net-worth clientele in the challenging years of 2008 and 2009. Clark was promoted to the head of the San Diego U. S. Trust office where he has formed a cohesive group working to serve the needs of clients.
BUSINESS PHILOSOPHY
Essential business philosophy: Effective routines lead to productive habits, productive habits establish successful culture.
Best way to keep a competitive edge: Do it right the first time.
Guiding principles: Take care of your clients and be honest in your capabilities.
Yardsticks of success: Number of "thank yous."
Goals yet to be achieved: Winning over every client in our market.
JUDGMENT CALLS
Best business decision: Working for U.S. Trust, Bank of America Private Wealth Management.
Worst business decision: Second guessing my decisions.
Biggest missed opportunity: Every prospect I did not win.
Mentor: I've had many mentors over the years. People who are pleasant but are able to make difficult decisions and move forward are the ones I admire.
Word that describes you: Intense.
TRUE CONFESSIONS
What you like best about your job: Being the best at what we do.
What you like least about your job: Conference calls.
Pet peeves: Being late.
Most important lesson learned: Dig deep, there is always a way to make something work.
Person most interested in meeting: Ronald Regan — but I can wait on that one.
Three greatest passions: Outdoor adventures, wilderness fishing and aquatic sports.
First choice for a new career: Historian or geologist.
PREDILECTIONS
Favorite quote: "I would be true for there are those who trust me — Howard Arnold Walter, 1906.
Most influential book: "We Were Solders Once, and Young," Lt. Gen Harold G. Moore and Joseph L. Galloway.
Favorite status symbol: Wedding ring.
Favorite restaurant: Alfonso's of La Jolla.
Favorite place for business meetings: In the office, to get more done.
Favorite vacation spot: Mammoth Lakes.
Favorite way to spend time: Doing something adventurous with my family.