HUMAN RESOURCES: COOKING USES INGREDIENTS OF TEAM BUILDING
Serving a Purpose
Monday, May 14, 2012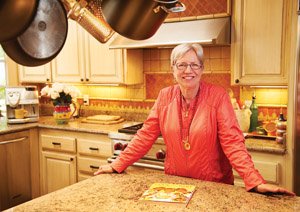 "I've always used cooking as a tool for building relationships," Eastham said. "Early in my career I found it was a stress reliever. Then I started cooking with our work teams. It's amazing what kind of issues you can resolve by cooking."
Recipe for Better Relationships
Faheem Hasnain, president and CEO of Receptos Inc., says "Cook the Part" helped build camaraderie among himself and a group of biotech executives. Hasnain said they were trying recipes they wouldn't normally be using in a setting that was outside their usual day-to-day professional environment. Eastham parsed out the tasks among the team of eight participants so each member could each bring something meaningful to the experience.
"There was a lot of fun and laughs," he said. "You're eating food and drinking wine at the same time. What could go wrong with that?"
"We all got to know each other better and friendships started to build," said Hasnain, who is planning on hosting a similar teambuilding event in his Encinitas home with the Receptos executive team and staff of aesthetics company Senté. "When you engage in this type of event you get to know each other on a personal level."
Among the enterprising local businesses that can facilitate teambuilding in the kitchen is La Jolla Cooks 4U. Under the direction of Chef Jodi Abel, a company's staff can participate in gourmet cooking classes where they mingle, relax and enjoy preparing a meal together then feast on their creations.
Classes are held in Abel's spacious Mt. Soledad custom home kitchen that offers sweeping ocean and mountain views.
"People walk out of here excited — they're ready to get to work," Abel said.
Collaboration on the Menu
"They've done collaborating in a way they wouldn't have done anywhere else."
She started La Jolla Cooks 4U in 2008 on a shoestring budget with a presence on the Internet and a reliance on TripAdvisor reviews. Now when a company or out-of-town guests come to her home she says she can coordinate four to six teams and work through 10 recipes.
"By the time they leave they've had an amazing time," Abel says. "They've really bonded on a different level.
A more structured teambuilding event is offered at San Diego-based Festivities Catering's 6,000-square-foot industrial kitchen at Camino Ruiz and Miramar Road. That's where groups of 30 to 50 people get together to cook in Festivities Culinary Championships. Challenges they face along the way include communicating with each other as they locate ingredients in the refrigerator or pantry, working with unusual ingredients such as beets, and recovering a dish that's been ruined.
Richards said teambuilding aspects pull together as the participants have to cooperate, use their imagination, and share their knowledge about such things as differences between kosher salt, sea salt and iodized salt. There's also a competitive element as team members are scored on a scale of 1 to 5 on teamwork, overall appearance of the finished product, taste, consistency and quality.
What may be just as rewarding as winning a fun trophy or set of wooden spoons is the group sharing at the end of the event about the roles each played and how the meal all came together.
"We want them to enjoy cooking," Richards said. "To demystify it for the nonculinary people is my personal goal."
Prev Next