REAL ESTATE: OBSERVERS DISMISS TALK OF BUILDING BOOM
Hines Begins Work on UTC High-Rise
Monday, May 7, 2012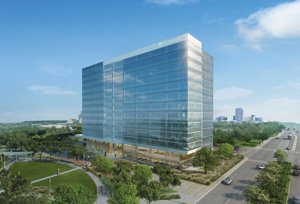 The brokerage firm Cushman & Wakefield put San Diego County's direct office vacancy rate at 14.1 percent at the end of the first quarter, down from 15.3 percent in the same period of 2011. The overall vacancy rate, with available sublease space included, went from 16.8 percent a year ago to 15.8 percent in the latest quarter.
Dan Broderick, president and CEO of brokerage firm Cassidy Turley San Diego, said the local region is seeing sporadic signs of new build-to-suit construction activity. High-demand office submarkets like Del Mar Heights could soon see new projects geared to adding buildings to existing campuses, and replacing older buildings to meet demand for upgraded facilities.
"I think you'll be seeing some of these projects starting to move through the planning pipeline by the end of the year," he said.
Third Building Mulled
The LPL decision to take the full Hines tower could also indicate that certain sectors, such as financial services, are preparing to ride future growth in the overall economy. "I think it's an indicator that financial services is bouncing back, to the extent that a company would be able to commit to this kind of space usage," Broderick said.
The current tower at La Jolla Commons — with tenants including US Bank, KPMG and law firm Paul Hastings LLP — was completed in 2008, and Twardowski said Hines in coming years will be looking to add a third large building at the development, likely focused on hotel and residential elements to complement neighboring office buildings.
Hines was a primary construction manager during development of Petco Park and has an international portfolio of buildings it has developed and acquired over the years, including downtown San Diego's Golden Eagle Plaza and five other office properties in San Diego County.
It currently owns a total of 4 million square feet of real estate in San Diego and Orange counties, and Twardowski said it will next be scouting for industrial and multifamily opportunities in both regions.
"San Diego is a priority market for the company," he said.
Prev Next