REAL ESTATE: OBSERVERS DISMISS TALK OF BUILDING BOOM
Hines Begins Work on UTC High-Rise
Monday, May 7, 2012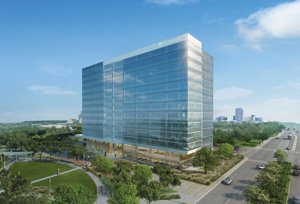 Development and investment firm Hines has begun construction on something that's recently become a rarity in San Diego and most major metro markets: a new high-rise office building.
The Houston-based company broke ground in late April on what will be the second tower in its La Jolla Commons development at University Towne Center. The financial services firm LPL Financial has signed a long-term lease to occupy the entire 13-story, 415,000-square-foot building after its completion in mid-2014.
LPL, which employed more than 1,600 people locally as of mid-2011, will be relocating workers from several offices it currently occupies throughout San Diego, primarily in UTC. An LPL spokesman said company leaders would not be available before press time to discuss plans for the new site.
"We had a situation where LPL was looking for a place to put all of its operations, and we were able to come to arrangements that worked for everybody," said Hines Managing Director Paul Twardowski, who is based at the firm's San Diego office.
The privately held Hines is building the tower in a joint venture with institutional investors advised by J. P. Morgan Asset Management, and project cost estimates have not been disclosed.
Like other local experts, Twardowski said the new tower's arrival is not a sign that developers are about to embark on a high-rise building binge. Rather, it reflects a specific limitation of the current San Diego office supply: the shortage of remaining large spaces available for the biggest local companies wishing to house all or most of their workers in one location.
"There's really not a large number of big blocks left in terms of office space," Twardowski said. "There isn't even much in terms of full-floor availabilities right now."
Demand Remains Spotty
Experts said the UTC development could signal an uptick in future build-to-suit construction projects, geared to the space needs of large firms seeking spots in the high-demand office submarkets. Other tenants in the market, especially firms seeking 20,000 square feet or less, are still finding plenty of available options, even as overall vacancies have slowly declined with the improving economy.
Ron Magnaghi, a senior vice president with San Diego-based Irving Group who handles tenant representation, said new building projects that are fully pre-leased don't add significantly to the local office supply, and often create new vacancies when companies relocate.
That reality and other economic factors likely will keep tower building booms well in the future. "It always depends on the strength of tenant demand, and that demand right now is still spotty," Magnaghi said. "It's certainly better than last year, but I would say it's still a tenant's market."
Prev Next