TRANSPORTATION: CENTRALLY LOCATED OFFICES CAN HELP BUSINESSES ATTRACT TOP TALENT
Freeways Steer Moving Decisions
Monday, March 19, 2012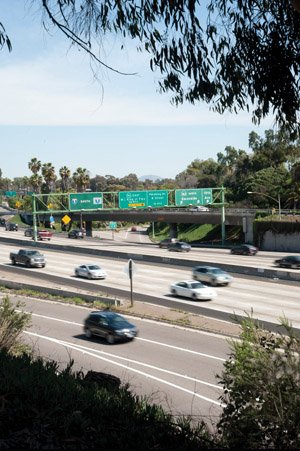 CEO Greg Garrabrants was well aware that the new office space for BofI Federal Bank would have to be centrally located.
With his employees coming from nearly every corner of the county, and some outside of it, he said it was imperative to find a site that was within reasonable driving distance for all.
"We needed to find a place where everybody would be comfortable," he said. "We mapped out where all the employees were coming from, and it covered a pretty wide area. Some were coming from as far north as south Orange County, and some were as far south as Chula Vista and East San Diego."
The chief executive for BOFI Holding Co., the parent of San Diego-based BofI Federal Bank, is not alone in his thinking.
Companies searching for a new home make the building's proximity to a freeway a critical factor in the decision, say business and real estate industry officials.
An online savings bank, BofI focused on several areas, but generally south of state Route 56, north of Interstate 8, and along Interstate 15 on the west. It considered some buildings in Carlsbad that were great sites, but they were just too far north and inland, Garrabrants said.
'Better Building' for Less
Late last year, after looking at several potential sites, it decided to move to the University Towne Center area, along its main arterial on La Jolla Village Drive. The building's proximity to both Interstates 805 and 5 and state Route 52 was a major selling point, Garrabrants said. The bank will likely move into the 40,000-square-foot space in July, and vacate its current office space in Carmel Valley.
"We're very pleased with the package that the Irvine Co. (the building's landlord) put together," he said. "We got it at lower rent than we're paying now and it's a better building, so we're happy."
Joseph Vranich, principal at Spectrum Location Solutions, an Irvine specialist in finding new sites for companies, said businesses benefit from having offices near freeways.
"The bigger the territory you can recruit your potential workforce from, the better it is for the company because you can get a larger number of qualified employees," Vranich said.
Sometimes, a business absolutely has to be next to a freeway, Vranich said. He recalled a recent client whose name he couldn't disclose that had 300 trucks coming and going daily. Finding a spot in a commercial area that wouldn't be disturbed by that traffic was important, but so was finding a place just off the freeway.
Prev Next