REAL ESTATE: MARKET IS REBOUNDING; CONSUMER CONCERNS STILL LINGER
Commercial Real Estate Recovery at 'Halftime'
Monday, March 12, 2012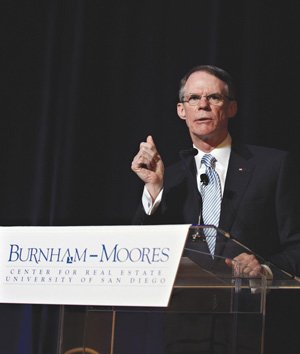 "We're well beyond those times when everything goes to the sky," Silk said, noting that investors are now content with a return of 8 or 9 percent on a property when they go to sell.
John B. Turner, a San Diego regional vice president with Irvine Co., said the firm used the downturn to get its office properties ready for the recovery now taking place, by upgrading amenities and boosting energy efficiency to make its office buildings more competitive in the leasing marketplace.
"We're not in a mode of waiting for a better day," Turner said.
On the construction side, apartment projects are currently the only real bright spot in real estate, as demand rises amid obstacles to home ownership in markets including San Diego.
Frank E. Nothaft, vice president and chief economist for Virginia-based Freddie Mac, noted that single-family homes are as affordable as ever, but many consumers still are not in the mood to make large, long-term financial commitments.
If California's employment picture continues to improve, however, and if buyers continue to draw down the unsold inventory of existing homes in 2012, that should set the stage for rising demand for new housing in coming years, he said.
San Diego's diverse economy should continue to help raise demand for commercial space, though experts said the region could do more to retain and incubate companies, similar to what is being done in the high-tech sector.
Prev Next