Executive Profile: Joe Alfrey
Monday, June 25, 2012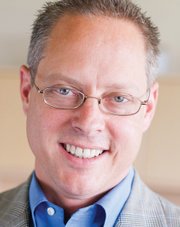 RESUME
Name: Joe Alfrey.
Company: redIT.
Title: Managing Director.
No. of employees: 42.
Year founded: 2001.
Education: BA, business economics, University of San Diego; MBA, Finance, San Diego State University.
Birthplace: Columbia, Mo. Moved to San Diego at age 6.
Age: 44.
Current residence: Carlsbad.
Family: Wife, Devonee; sons, Patrick and Timothy.
Joe Alfrey was a co-founder of redIT, and currently serves as managing director and chief financial officer. RedIT supports the global IT community with private, customizable cloud services and data centers in the southwestern U.S. and Latin America. Alfrey provides leadership in all aspects of redIT's U.S. operations and drives the strategic direction of the company.
BUSINESS PHILOSOPHY
Essential business philosophy: Surround yourself with smarter people.
Best way to keep a competitive edge: Understanding our clients, then creating solutions that they have not yet envisioned.
Guiding principles: Hard work, persistence and honesty.
Yardsticks of success: Knowing our customers are truly happy with redIT and our services.
Goals yet to be achieved: The ability to dedicate 90 percent of my efforts to forward, strategic thinking.
JUDGMENT CALLS
Best business decision: Expansion to our newest enterprise-level data center. It exponentially added to our capabilities, service offerings and ability to serve additional market segments.
Worst business decision: Tolerating weak performance in the early days of a startup. It can severely hinder momentum and innovation.
Toughest business decision: Leaving my role at Alaris Medical (now CareFusion) to become one of the founders of redIT. Working within a Dave Schlotterbeck organization was one of the most challenging and rewarding experiences early in my career.
Biggest missed opportunity: Not taking a year off to travel around the world when I was younger.
Mentor: My father: My grandfather passed away when my father was very young, so my grandmother raised my father alone. He showed me that despite adversity and circumstances, hard work and dedication lead to success.
Word that describes you: Insightful.
TRUE CONFESSIONS
What you like best about your job: Working with an incredible team that is 100 percent dedicated to continually moving our business forward.
What you like least about your job: My commute to the office — but at least I have the opportunity to listen to a lot of audio books.
Pet peeves: Organizational silos and smugness.
Most important lesson learned: Understanding that success and failure are transitive and knowing that persistence is key to achieving my goals.
Person most interested in meeting: Alton Brown. I'm really a geek at heart and his approach to food really speaks to me.
Three greatest passions: Family, food and sharing a hopped ale with good friends.
First choice for a new career: Winemaker.
PREDILECTIONS
Favorite quote: "If you believe in yourself and have dedication and pride — and never quit, you'll be a winner. The price of victory is high but so are the rewards." — Bear Bryant.
Most influential book: "The Singularity is Near," by Ray Kurzweil.
Favorite status symbol: Shafer Hillside Select.
Favorite restaurant: Paon, Carlsbad.
Favorite place for business meetings: late Friday afternoon meetings at Stone Brewing World Bistro & Gardens.
Favorite vacation spot: Napa Valley.
Favorite way to spend time: Cooking great food with family and friends.