REAL ESTATE: FIRM'S NEW OFFICE SPACE BLENDS THE BEST OF BOTH WORLDS
There is Someplace Like Home
Monday, June 4, 2012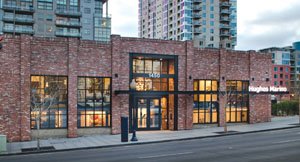 Hughes Marino Inc. Headquarters
Location: 1450 Front St., San Diego.
Designers/concept: Shay and Jason Hughes.
Construction management: Hughes Marino CM.
General contractor: Suffolk Roel.
Architect: Gensler.
Local employees: 25.
Former occupants: San Diego Magazine, auto mechanics garage.
Cost of building: $1.8 million in 2011.
Remodeling costs: Approximately $2.5 million; additional $1 million on furniture, fixtures and equipment.
Size: 12,367 square feet, two-story building.
Design features: Skylights, oak floors, living room, entertainment area, 80-inch high-definition TV, self-playing piano, billiards room, pool table, putting green, gym, showers, employee lockers, gourmet chef's kitchen.
Façade: Recycled vintage brick.
Office space: Three conference rooms, offices on second floor atrium, multimedia technology.
Leaders of the San Diego commercial brokerage firm Hughes Marino Inc. say they have no regrets about their corporate home improvement project that went way over its original intended budget.
After an investment of more than $5 million, including an extensive makeover of an ailing former industrial building dating back to the 1950s, the company recently opened for business in its new downtown location that, from a design sense, is as much a home as it is an office.
"The goal was to have a place of business, with the feel of someone's house, but under one roof," said Shay Hughes, the company's chief operating officer who ultimately made most of the myriad design decisions that went into the project, ranging from paint colors, to the types of bulbs used in light fixtures, to the art pieces that hang on the walls.
The first floor of the two-story, 12,367-square-foot space sports a large living room and entertainment area with an 80-inch, high-definition TV, and the self-playing piano in the corner has its own built-in Wi-Fi for downloading songs.
There is also a billiards room with a pool table and putting green, a state-of-the-art gym for employees with showers and personalized employee lockers, and a gourmet chef's kitchen.
A New Start
The second floor, designed in an atrium format that overlooks the "living room" below, is lined with offices and lighted with multiple skylights. Located throughout both floors are three conference rooms — which the company has made available for community meetings — decked out with graphically-veined marble tables, cutting-edge multimedia technology and plush leather chairs.
The building at 1450 Front St. is the former home to San Diego Magazine, and in an earlier life was an auto mechanic's garage. But after the renovation there were few reminders in the interior of the site's past, save for portions of a back wall and a few ceiling trusses.
Prev Next