REAL ESTATE: THE PROPERTIES BENEFIT FROM LOCATION, EVEN NEIGHBORS
The Best Buildings Deliver 'Class-A' Returns for Their Owners
Monday, July 30, 2012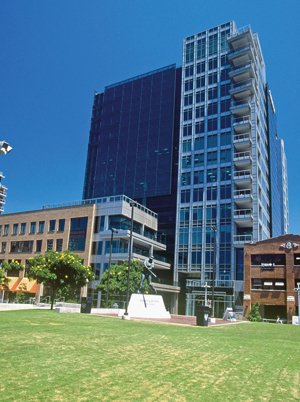 That the One Del Mar property in Carmel Valley ranked as the second highest performing Class A building in the region as measured by NOI/sq. ft., topping all downtown properties except for DiamondView Tower, is an indicator of the economic power of the region's technology community which surrounds and extends out from the property's High Bluff Road location.
The Top Performer - Downtown
Despite its East Village location on 10th Avenue — southeast of downtown's core office district — DiamondView in 2011 had an estimated net operating income (NOI) per-square-foot $33.70, making it the leader of the pack when in a ranking of buildings by NOI/sq. ft. The building generates an estimated $10.2 million NOI, according to tax and other property data compiled by The London Group and CoStar Group.
That total NOI places the 305,255-square-foot DiamondView second among the 20 largest office towers in San Diego's four biggest high-rise submarkets — downtown, University Towne Center, Carmel Valley and Mission Valley.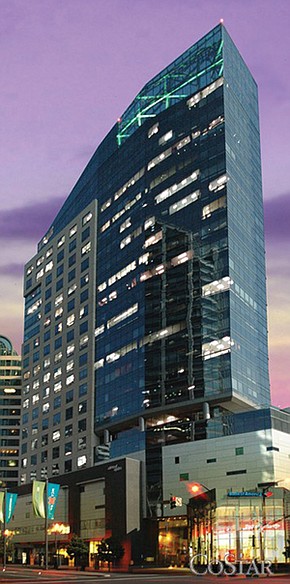 DiamondView is owned by Wereldhave USA Inc., the American arm of Netherlands-based property investment firm Wereldhave NV. CBRE Senior Vice President Kraig Kristofferson, who handles office leasing for DiamondView, said operators would not be commenting on its financials because the property is now up for sale.
Details on prospective buyers were unavailable at press time. DiamondView was built in 2007 and is currently 95 percent occupied, with tenants including Cox Communications Inc., Comerica Inc. and Fit Athletic Club.
"It really benefits from the cachet of being right near Petco Park, and the uniqueness of the views of the ballpark," said London Group President Gary London, whose firm did early feasibility studies for the project's developers.
London said the tower has defied conventional wisdom that successful high-rises must reside in core business districts, aided by office tenants willing to pay premium rents for the view. In addition, the building's top-floor skybox event space and other social areas are nearly fully booked throughout the year, regardless of whether it is baseball season.
Wereldhave also owns downtown's First Allied Plaza on West Broadway, the city's biggest total NOI generator at more than $10.9 million, and the third-best per-square-foot NOI performer at $29.19.
Matt Carlson, senior director in the San Diego office of Cushman & Wakefield, who handles First Allied's leasing, said rents and occupancy rates have been rising during the past two years, but most downtown properties have yet to see revenue return to pre-recession levels.