MARKETING: RETAILERS SEE NEED AND NECESSITY OF HAVING MULTIPLE ONLINE CHANNELS
Sold on the Changes
Monday, July 9, 2012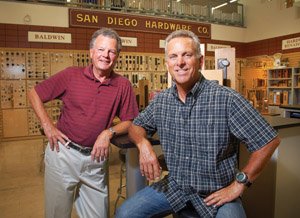 "Consumers are getting increasingly sophisticated and don't want to spend time with retailers that aren't willing to be where they are, or do things in ways that fit in with their own lives," said Craig Killman, a senior vice president with Jones Lang LaSalle.
Cross-channel Marketing is Key
For retailers like Jerome's Furniture, a San Diego mainstay for nearly six decades, cross-channel marketing that deploys old and new media has become key to generating customer loyalty, and ultimately repeat-sales, over the long haul.
Vice President Jim Navarra said the family-run company's sales and marketing efforts in recent years have moved well beyond the iconic local print and TV ads that still feature his father, company Chairman Jerome Navarra.
Jerome's Furniture now has an active presence on Facebook and its social site rival Google+, as well as Twitter, Yelp and Pinterest. The retailer's website has a link to the company's blog, called Home, where staffers discuss the latest news and trends in areas including home design, reorganizing and remodeling.
There is also a monthly print edition of Home sent to customers who sign up to receive it, as well as regular emails telling customers about holiday and other social activities being held at the company's stores.
"You can look at retailing as being transactional, but you can also look at it as establishing an ongoing relationship with consumers," Jim Navarra said. "That is what we are trying to do — to give them ideas, keep them informed about things like design."
"We have found that it helps in terms of keeping people thinking of us, and it helps with our repeat business, which is very important," he added.
Tapping into multiple channels also has proven critical for owners of newer businesses facing a competitive retail climate.
Even Pets Go Online
Gina Champion-Cain, a longtime local commercial real estate developer, recently opened Luv Surf San Diego. The Mission Beach store sells clothing, gifts and accessories geared to two constituencies that Champion-Cain has cultivated in her various business enterprises over the years: beachgoers, and avid lovers of dogs and cats.
One of her businesses geared to beach hotel rentals on Mission Bay, which she advertised on prominent travel booking websites and search engines, brought her in contact with vacationers seeking pet-friendly accommodations.
Popular pet-oriented items she offered to her hotel guests — like bowls, tags and bandanas — ended up as merchandise in the new store. Some of those items were originally given as freebies to those who "liked" and "friended" her original hotel business on its Facebook page.
Combined with search engine optimization to put the business near the top of searches, the online approach has helped build a brand that will next be extended to a Pacific Beach restaurant, Patio on Lamont Street, which Champion-Cain plans to open in August. All three businesses will be linked via social media, targeting 3,000 Facebook friends among other like-minded consumers.
"Facebook was a big part of getting the Luv brand launched," she said. "I didn't have a PR representative at the start of all this. People like you on Facebook, they tell their own friends about you, and they send their friends links to our websites."
JLL's Killman said retailers that master social sites and search engines can not only boost the customer counts at their physical stores, but also hone their product and service offerings to target specific customer demographics.
"Facebook just reached 800 million users," he said. "That comes with very large amounts of consumer information."
Prev Next