BUILDING: TENANTS EXPECT ENERGY EFFICIENCY IN PROPERTIES
Construction Industry Keeps Going on Green
Monday, December 3, 2012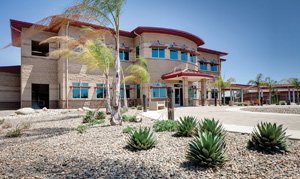 Green construction and improvement projects already figure prominently in the work of local contracting firms, and national projections suggest that dollars invested in energy-efficiency upgrades could nearly triple over the next four years.
Calling green building "a bright spot in a still uncertain economy," industry data provider McGraw-Hill Construction recently reported that the value of U.S. energy-efficiency work — nonresidential and residential — is expected to grow from $85 billion this year to between $204 billion and $248 billion by 2016.
Green projects currently represent about 44 percent of all commercial and institutional construction nationwide, and that is expected to grow to 55 percent by 2016. Data covering San Diego County was not immediately available.
Douglas Kot, executive director of the U.S Green Building Council's San Diego chapter, said local commercial construction has not returned to pre-recession levels in most building categories, including offices. But the majority of new projects and upgrades going forward in the next few years are expected to pursue certification under the council's Leadership in Energy and Environmental Design (LEED) program or the U.S. Environmental Protection Agency's Energy Star program.
Legal Motivations
The pace of improvements will likely increase in the coming year, as the state of California moves to enforce previously passed laws requiring building owners to disclose energy usage to prospective buyers and tenants. "There's been a change in thinking where more owners are now looking at building upgrades as revenue-generating assets, rather than just liabilities that drain revenue," Kot said.
Local construction company leaders say demand for energy efficiency in commercial buildings is on the rise, as developers look to reduce costs and attract the best tenants — and as those tenants in turn look to recruit the top workers in fields such as life sciences and technology.
"It's developed to the point where it's an expectation now," said Whitney Dorn, sustainability manager for DPR Construction in San Diego, noting that private developers are increasingly calling for green elements to make their projects competitive in the marketplace.
DPR recently worked on green-oriented projects including Nautilus, a Torrey Pines office complex being updated by owner Alexandria Real Estate Equities Inc.; as well as local renovations and expansions by life-sciences players such as Illumina Inc. and Optimer Pharmaceuticals Inc.
Even in cases where the landlord is unable to immediately charge premium rent for a green space, Dorn said building owners are looking primarily to bring in strong, eco-minded companies willing to sign long-term leases. "Developers feel they have a chance to bring in higher quality tenants if they have a green building," Dorn said.
Prev Next