ADVERTORIAL: HOLIDAY PLANNING GUIDE SUPPLEMENT
San Diego Tops List as Meetings Destination
Monday, August 27, 2012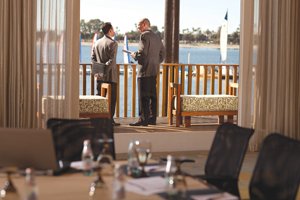 America's finest city has recently reinforced its reputation as one of the world's finest meeting destinations after three San Diego event venues were honored by the Professional Convention Management Association (PCMA) for being international industry leaders.
The San Diego Convention Center, San Diego Convention & Visitors Bureau, and Paradise Point were named in PCMA's "Best in Show" August issue of Convene Magazine. The ten award categories included "Best Social Media Initiatives," "Best Places for Small Meetings," and "Best Food & Beverage," for which the San Diego Convention Center was listed. Winners were nominated by Convene Magazine readers and chosen by the magazine's editors.
The San Diego Convention & Visitors Bureau's customized iLead RFP and lead management system won a mention in the "Best Technology Tools" group. The iLead dashboard, created exclusively for the bureau, provides meeting planners with a one stop shop for real-time search results and proposals from the city's 135 conference hotels.
Just one of those San Diego hotels was awarded PCMA's coveted "Best Hotel Spaces" title – Mission Bay's Paradise Point. The award comes during the 50th anniversary for the iconic island hotel, which offers 62,000 square feet of flexible waterfront meeting space and unique event venues including bay view ballrooms, spacious decks, and tropical gardens and lawns.
With its three honorees, San Diego walked away with more awards than traditionally prominent conference cities such as Miami, Las Vegas, Vancouver and Washington DC – an encouraging sign for a city whose economy relies heavily on the convention, travel, and tourism industries.
Perhaps further establishing San Diego's distinction as a top convention city was PCMA's own decision to meet in the Southern California city. San Diego was able to showcase its unique offerings as a conference destination when the 6,000-strong association of meeting industry professionals from the United States, Canada, and Mexico held their annual conference in San Diego this past January.
Submitted by David Griffin, Director of Sales, Paradise Point