ADVERTORIAL: HOLIDAY PLANNING GUIDE SUPPLEMENT
ONE PHONE CALL – MANY EXPERIENCES!
Monday, August 27, 2012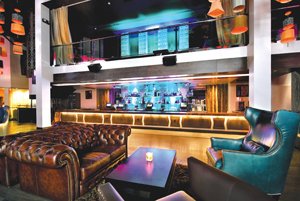 Enlightened Hospitality Group takes the concept of the traditional holiday party and puts its own stamp on the experience. We encourage our clients to let us get creative and come up with fun options for their employees. Often times, this is a big night out for a lot of folks and with the stress that is guaranteed to come every holiday (spouse holiday events, family and gift buying) we pride ourselves on not only being able to make the planning process seamless, but the guest experience that is enjoyable and memorable.
Enlightened Hospitality Group (EHGRP), established in 2009, operates a variety of companies within the hospitality industry. Our San Diego venues include a world-famous nightclub and Fabric of Social Dining Concept restaurants. We have accumulated over a decade of knowledge from various involvements in the hospitality industry. Boldly sourcing undiscovered opportunities in untapped markets, we bring innovation to every aspect of operations and service, setting the pace as visionaries in the business of creating an experience.
When it comes to enjoying the flavors of San Diego, Enlightened Hospitality Group has the entire package. Incredible food, unique music, imaginative cocktails, and nightlife are all covered within our diverse portfolio of properties. From BURLAP's Asian Cowboy fare in Del Mar, to renowned nightclub Stingaree in the Gaslamp Quarter, we have something for every San Diego neighborhood and taste with space options for groups as small as 10 all the way to 1200. All of our spaces offer a unique opportunity for everyone.
For smaller groups, taking advantage of the Private Dining Room at Searsucker and then bottle service in one of our VIP areas at Stingaree can be the quintessential downtown experience. We can make parking arrangements and even set up preferred room rates with our downtown hotel partners, so guests can "make a night of it" and potentially enjoy places they have never been to throughout the year.

North County residents can enjoy Burlap like they never have. Cocktails and passed appetizers in one of the comfy lounge areas, followed by a pig roast with all the trimmings on the dining patio, is a fun interactive way for groups to celebrate. Herringbone, our newest property, can take guests in the semi-private loft space for an intimate dinner, after guests enjoy seasonal libations prepared by our in house cocktail team – Snake Oil. Creating signature drinks is one way to personalize the evening and take the dining experience to another level.
Lastly, Stingaree Nightclub and Event Center can provide the perfect combination to a private affair and a great after-party. We allow our guests to take our space over any night of the week and if it happens to fall on a Friday or Saturday, we invite our guests to stay past their event and enjoy the nightlife. With amazing house DJs and blazing fire pits on our Rooftop Oasis, we allow all of our guests to take advantage of being the first ones in the door.
We sincerely hope that everyone thinks outside of the potluck in the conference room this year and experiences one of our properties. Our teams of event professionals are excited to entertain you and your guests and guarantee great food, delicious drinks and memorable times!
Submitted by Shannon M. Silva, Director of Event Sales, Enlightened Hospitality Group.
For event information call 619-704-1721