REAL ESTATE: URBAN VIBE HAS APPEAL; TOWER VACANCY IS 18.7 PERCENT
Downtown Landlords Work to Lure Tech-Oriented Tenants
Monday, August 27, 2012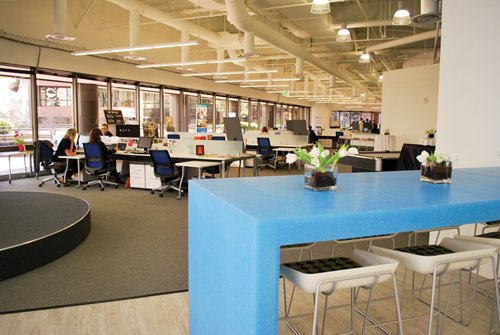 "Lifestyle is crucial to recruiting talent to these types of companies," Taylor said. "Right now we don't have a big trend of tech companies flocking to downtown San Diego, but the elements are there."
Room to Collaborate
Irvine Co. is looking for catalytic results, similar to the tech incubator that it has hosted for free since 2009 at one of its University Towne Centre buildings. Both the UTC and downtown site, which opened in February of this year, are operated by CommNexus, a local nonprofit organization that advocates for expansion of the region's high-tech economy.
The extensively renovated, 15,000-square-foot downtown space, designed for free by the architectural firm Gensler, hosts firms in various stages of early funding. It features well-lit open spaces that promote collaborating and socializing, with a variety of conference and meeting spaces, common kitchen and dining areas, and a few recreational distractions such as a pool table.
"These new companies want places where people can walk around and collaborate among themsleves, and also with people from other companies," said Bailey Cunning, vice president of operations at CommNexus and EvoNexus. "They also want a place where there are going to be things located nearby, where they can go in the afternoon or into the evening, because lots of these companies, especially the software companies, do not have 9 to 5 hours."
CommNexus officials said the two local incubators to date have hosted firms that raised more than $92 million in total venture funding, and seven graduate companies have created more than 400 jobs.
Tech Hub Idea Has Challenges
Hieu Bui, founder and CEO of Cashie Commerce, moved his young company from Sorrento Valley to the downtown incubator about six months ago. He said the setting he found there is important for early-stage companies like his, looking to recruit new employees and investors.
"This kind of setup has become commonplace in Silicon Valley," said Bui, whose company develops customizable shopping carts and payment systems that can be added to blogs and websites. "It was good to see it being used here, but it's very unusual for San Diego right now."
Andy La Dow, senior managing director with brokerage firm Cassidy Turley San Diego, said there is currently a solid existing base of about 50 mostly small downtown tech firms, primarily in East Village, on which to build a tech hub. But there are challenges, including geography: downtown is at the southern end of the region's office market, and much of the recent office migration has been northward, by companies such as intellectual-property law firms looking to serve clients in the current tech strongholds.
Local brokers said the region likely will need more public advocacy and recruiting within the national technology community to raise downtown's profile.
"Most of the tech growth downtown has been organic," La Dow said. "It's companies that started there because the founders already lived there or most of their employees are there, as opposed to growth from companies moving to be part of the downtown scene because that's the place to be."
Prev Next