REAL ESTATE: URBAN VIBE HAS APPEAL; TOWER VACANCY IS 18.7 PERCENT
Downtown Landlords Work to Lure Tech-Oriented Tenants
Monday, August 27, 2012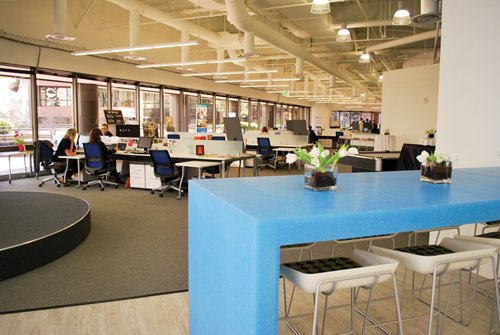 Once home to the old-line financial services firm Morgan Stanley, the second floor of a downtown San Diego high-rise now houses a buzzing technology incubator with 18 companies looking to be the next Facebook or Twitter.
Irvine Co., the region's largest office landlord, is hoping the EvoNexus incubator, which it hosts rent-free at its West Broadway office tower known to most as the AT&T Building near Horton Plaza, will spark a transformation of downtown into a key software and social media development hub.
"The demographics are there, and we've seen in places like San Francisco and Silicon Valley that these younger tech workers and CEOs prefer a lively, energetic urban environment over being out in the suburbs," said Nelson Ackerly, senior leasing director in the San Diego office of Newport Beach-based Irvine Co.
Irvine Co. and its competitors are looking to counter a stagnant downtown office leasing market, which in the past three years has seen government, legal and financial services tenants downsize their real estate footprints.
A recent report by the brokerage firm Jones Lang LaSalle noted that downtown's 20 largest office high-rises, known collectively as the Skyline 20, saw just 5,153 square feet of net positive space absorption in 2011, and the towers' overall vacancy rate remained stuck around 18.7 percent for much of the past year.
Big Move-Outs
The downtown market has recently struggled with big move-outs by tenants such as the U.S. Navy, which vacated 77,000 square feet at 525 B St. Other towers have been impacted by office space downsizings by law firms, such as Robbins Geller Rudman & Dowd LLP and Duane Morris LLP.
JLL reported that the technology sector in contrast is seeing growth in that neighborhood, going from virtually no presence in downtown high-rises to 7 percent of the signed leasing deals during 2011.
Established tech firms boosting their downtown presence in recent years have included computer and mobile device antivirus developer ESET North America, heart-monitoring technology provider CardioNet Inc.; and Red Door Interactive Inc., a locally based Internet marketing services firm.
Andrew Taylor, a vice president in the San Diego office of brokerage firm CBRE, noted that Red Door Interactive recently signed a lease to boost its presence at the DiamondView Tower in East Village, going from 7,000 to 10,000 square feet, a size typical for the smaller tech-oriented companies recently locating downtown.
He said areas such as East Village and Little Italy typically attract a large portion of the younger CEOs and tech workers now living in downtown San Diego, most of them single and in their 20s to 40s, and looking to be in work spaces with close access to public transportation, stores, restaurants and other social and entertainment spots.
Prev Next