REAL ESTATE: NEW OFFICE BRINGS WELCOME UPGRADES TO SERVICES
Creating a Patient-Centered State-of-the-Art Environment
Monday, August 27, 2012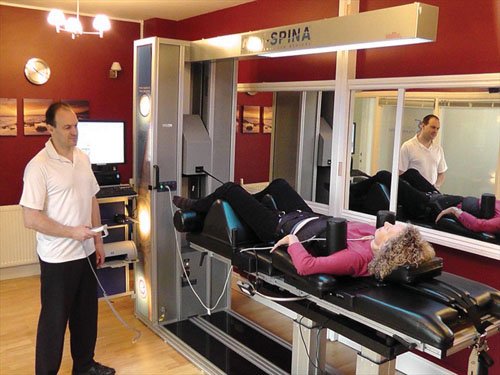 Along with continuing high-level laser therapy to treat patients who have nerve damage and consequently chronic pain, Song said PainCare plans to start a smoking cessation program with a low-level laser sometime after their move is complete. While the high-level laser therapy uses laser light on patients' point of pain to help them heal, the low-level laser therapy uses acupuncture points in the ear, face and hands to release the body's endorphins, epinephrine and serotonin to stop the craving for nicotine, Song said.
Newer Equipment
Song said that a nonsurgical decompression machine is one of the newer pieces of equipment that will be moving with them to the new office. Song said the machine essentially pulls the vertebrae apart to create a negative pressure on the disc in the back or the neck.
"It helps with the fluid exchange of that disc and it also helps re-absorb that disc back to the normal state, eventually healing it," he said.
While all of the equipment and procedures can seem daunting to a patient, Romeo says it's her job to create a harmonious setting that promotes a sense of well-being. A waterfall in a niche of a wall in the reception area reflects Romeo's environmental psychology and feng shui backgrounds and is intended to have a calming effect on patients.
"It will actually help them to breathe deeply and relax and let go of some of the stress they're feeling when they walk through the door," said Romeo, who incorporated as many green and clean options as the budget would allow.
Tying it all together will be a series of photographs taken with an electron microscope of various aspects of the body from red blood cells to skeletal muscles. Created by scientist Dennis Kunkel of Hawaii, Romeo said the bold artwork will give the staff an opportunity to speak to the patients about what they're seeing and make connections with their own treatments.
"It develops a whole artwork scheme for the entire office so it's cohesive, so there's an artwork story that unfolds as the patient walks through the hallways," Romeo said.
Prev Next